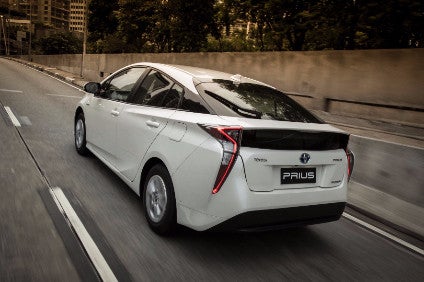 Toyota Brazil is relaunching the Prius hybrid to take advantage of new financial incentives introduced last year by the federal government and the two largest state capital cities. But it will not import the plug-in version – just launched in Japan – because the retail price would be too high.
The previous generation Prius arrived in Brazil early in 2013 but faced high taxes and a general lack of hybrid product awareness amongst consumers. Hit by taxes and currency devaluation, Toyota managed to sell just 783 units up to April 2016.
Now, still subsidising the price, Toyota Brazil is launching the redesigned fourth generation model for BRL119,950/US$34,000 with just one specification level. But some buyers will now benefit from incentives such as exemption from São Paulo's one-day-a-week traffic ban during peak hours (determined by the licence plate last digit) plus various tax breaks in the cities of Rio de Janeiro and São Paulo.
Toyota has considered getting the price down by assembling the Prius from CKD kits at its São Bernardo do Campo (Greater São Paulo City) plant opened here in 1962. But there are still no firm plans as a local manufacturing business case depends on market acceptance of the new model and incentives remaining on offer in future years.
Optimistically, it plans to sell 800 units in the rest of 2016 – that's three and half years' previous generation Prius sales.
The new modular TNGA platform on which the latest Prius is built will also underpin the next Corolla; the current car is assembled here.
The latest Prius has improved aerodynamics (Cd 0.24) beaten only in Brazil by the Audi A4 (Cd 0.23), and is 2cm lower with better forward visibility thanks to the bottom of the windscreen being 7cm closer to the ground.
Inside room is roughly the same as the Corolla (shared 2.7m wheelbase) but the 412 litre boot is shallower, 15% smaller. The nickel-hydride traction battery is under the rear seat.
Brazilian 'official' fuel economy is 18.9km-litre/44.5mpg city and 17km-litre/40 mpg motorway and the petrol and electric motors combined produce 121bhp. The automaker promises battery lifetime to match the car under normal use.
Stand-still starts are always in electric mode [once the petrol engine has kicked in once or twice from cold – ed] and the combustion engine is truly quiet, so the latest Prius is a new driving experience.
It was quite easy to achieve 20km-litre/47 mpg on the federal capital of Brasília's expressways despite the city's 1,172m altitude which reduces naturally-aspirated combustion engine performance. The Brazilian suspension settings were tuned for more comfort without compromising road manners.
The Prius retails for 15% more than the top-line Corolla Altis but the fuel economy advantage will help long distance commuters make up the difference with lower fuel cost-per-mile.