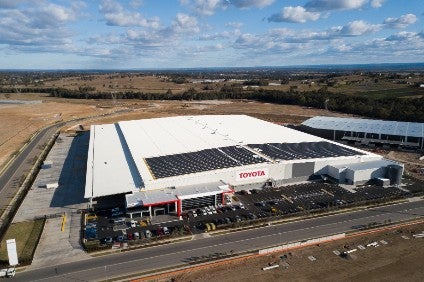 Toyota Australia said it was demonstrating its commitment to renewable energy through a substantial investment in solar power generation for its newest and largest parts warehouse.
The roof of the newly constructed centre in western Sydney is covered with a 605kW solar array capable of generating 874MWh per annum.
The solar panels and system was installed by Epho early this year as part of Toyota's stage one plans to get this site to zero emissions by 2020.
In the last six months, the system has generated more than 330,000 kilowatt hours – enough electricity to power 75 four-person households. The system consists of 2,200 Kyocera solar panels and 10 50kW ABB inverters
Ahead of the TPC's opening in November, most of the generated power has been utilised on site with only a small amount being fed back into the electricity grid, replacing the burning of 83,500 tonnes of coal and preventing more than 250 tonnes of greenhouse gases entering the atmosphere.
Further work will begin mid 2019 with an extension of the solar system, once Toyota has been able to determine the required solar array uplift to achieve a zero emission site.
The new warehouse has been designed to local five star green star performance standards.
Other environmental features built into the TPC include rainwater tanks for irrigation and toilets, LED sensor lights and a design with specific building materials, and features including the orientation of the building that ensures maximum natural cooling.
Aligning with Toyota's global and local alternative fuels vision, the company is also trialing the use of hydrogen powered fuel cell forklifts on site. These are expected to be the first fuel-cell forklifts created by Toyota to be used outside of Japan. Long term, the hydrogen will be generated using renewable energy from the warehouse's solar array.
Toyota Australia president Matthew Callachor said plans for the new TPC's environmental credentials aligned with direct action globally to cut emissions at company facilities to zero.
"Our commitment as a mobility company is to address environmental challenges that we face, as part of our contribution to an ever-better society," Callachor said.
"One way we're doing that in Australia, is embracing green building solutions for new and upgraded facilities, cutting CO2 emissions by adopting renewable energy sources such as solar and wind power, and by utilising alternative fuel sources such as hydrogen."
"This goes hand-in-hand with our plans to increase the number of hybrid models in our range, as well as our advocacy of a hybrid society built upon clean and renewable energy technology.
Globally, Toyota said it was aiming for electrified vehicles to account for more than 50% of its new vehicle sales around the end of the next decade. Even sooner, by around 2025, every model would be available as either a dedicated electrified model or have an electrified option.
Additionally, the Toyota Environmental Challenge 2050 is a plan to achieve a sustainable society. The plan which consists of six challenges regarding global environmental issues, such as climate change, water shortages, resource depletion, and biodiversity loss aims to not only minimize the negative impacts caused by automobiles, but also to bring a positive impact to society.