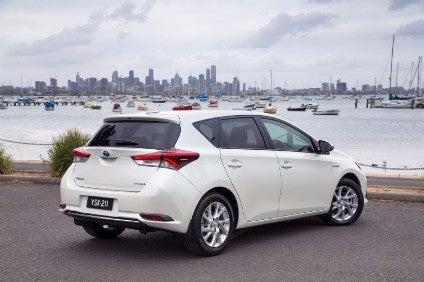 Toyota Australia is to add a hybrid Corolla hatchback to its range for the first time.
Unlike the UK Auris version, which is offered in two body styles – the other is a wagon – and multiple trim levels with factory options, Australia will get "a well-specified single grade" hatchback only. Toyota Australia alse sells Prius, Prius c, Prius v and Camry hybrids.
The new hybrid car is expected to use around one-third less fuel while producing similar power to the already efficient petrol-only Corolla hatch with its Multidrive S automatic transmission.
Features will include satellite navigation, Toyota Link connected mobility, dual-zone automatic air-conditioning and bi-LED headlamps.
Toyota Australia's executive director sales and marketing Tony Cramb said the company's full hybrid technology is established as a mainstream powertrain choice.
"The combination of Toyota's hybrid technology and Australia's best-selling car gives us a unique opportunity to broaden the market appeal of both," Cramb said.
Cramb cited the success of the European Auris version which is built at Toyota's plant in Burnaston, central England.
"There is enormous potential for the hybrid Corolla as shown by its success in western Europe where hybrid versions account for more than 50% of all Auris sales. In fact, it attracts more sales than any other hybrid in that market."
Australia's best-selling hybrid vehicle is the locally made Camry with 5,881 sales last year, an increase of 11.2% over the previous year.
The Corolla Hybrid hatch will be fitted with a Euro 5 compliant 73kW 1.8-litre petrol engine mated to a 60kW electric motor and driven through a continuously variable automatic transmission.
The Corolla, now in its 50th year in Australia, has been the best-selling car for each of the past three years with a 103kW petrol engine available in sedan and hatch body styles.
The nameplate is the most successful in Toyota's Australian range with more than 1.34m sold.
Spokesman Mike Breen told just-auto by email the Corolla hybrid was being sourced from Japan, not the UK.