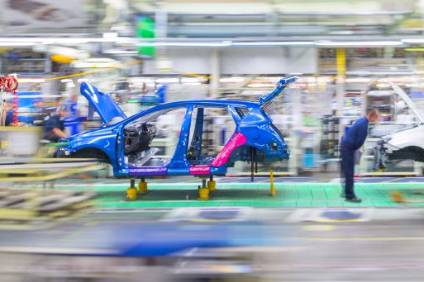 Toyota Motor Europe has announced that it will invest a further GBP240m in its Toyota Manufacturing UK (TMUK) car plant in Burnaston, Derbyshire (UK). The move will further shore up confidence in the outlook for the UK automotive sector despite uncertainties surrounding the UK's exit from the EU and future trading arrangements.
Toyota said its investment will improve plant competitiveness and additionally it will promote UK supply chain efficiencies.
Starting this year, the Burnaston facility will be progressively upgraded with new equipment, technologies and systems. This will enable production of vehicles on the Toyota New Global Architecture (TNGA) platform.
The investment programme also includes up to GBP21.3m of support from the UK Government for training, research and development and further enhancements of the plant's environmental performance.
Announcing the investment, Dr Johan van Zyl, President and CEO of Toyota Motor Europe, said: "We are very focused on securing the global competitiveness of our European plants. The roll-out of TNGA manufacturing capability is part of this plan. This upgrade of TMUK is a sign of confidence in our employees and suppliers and their focus on superior quality and greater efficiency. We welcome the UK Government funding contribution for this activity."
"Our investment demonstrates that, as a company, we are doing all we can to raise the competitiveness of our Burnaston plant in Derbyshire. Continued tariff-and-barrier free market access between the UK and Europe that is predictable and uncomplicated will be vital for future success."
Toyota says it has launched a global programme to upgrade its manufacturing sites to produce TNGA-based vehicles. By 2020, the majority of Toyota's global models will be built using TNGA platforms. TNGA underpins the new, fourth generation Prius and the new, Toyota C-HR crossover, which is built in Turkey.
Toyota European manufacturing overview
Wholly-owned plants:
Toyota Manufacturing UK (TMUK), which started production in 1992, currently manufactures the Avensis saloon and Touring Sports and the Auris hatchback and Touring Sports, including Auris hybrids, at its Burnaston plant in Derbyshire.
TMUK also produces 1.6 and 1.8-litre VVT-i petrol engines, and assembles hybrid engines at its Deeside engine plant in North Wales. It now also produces the new hybrid engine for the Toyota C-HR. The Deeside plant also opened in 1992.
Toyota Motor Manufacturing Turkey started production in 1994 and is currently producing the Corolla and Verso models. In 2016 the plant launched production of the Toyota C-HR, including the hybrid version.
Toyota Motor Manufacturing France opened in 2001 and is currently building the third generation Yaris (including the hybrid). Since 2013 it has been sending cars for export to the North American market.
Toyota Motor Manufacturing Poland came on stream in 2002. It produces 1.0-litre petrol engines for Aygo and Yaris and manual transmissions for Auris, Avensis, Verso, Corolla and Aygo.
Operational since 2005, Toyota Motor Industries Poland builds 2.0 and 2.2-litre D-4D diesel engines for Avensis, the Auris range, Verso and RAV4, and 1.4-litre D-4D diesel engines for Yaris, the Auris range, and Corolla.
Toyota Motor Russia started production in 2007 in Saint-Petersburg where it builds Camry saloons. In 2014 it added stamping and plastics production and doubled its capacity from 50,000 to 100,000 vehicles. In August this year, TMR Saint Petersburg will start producing the new Toyota RAV4, for the Russian, Belarusian and Kazakh markets.
Partially-owned plants:
Toyota's joint venture with Groupe PSA, the Toyota Peugeot Citroën Automobile Czech plant in the Czech Republic, has been manufacturing Toyota Aygo models since 2005.
Toyota Caetano Portugal S.A. started complete knock-down (CKD) production in 1971 and is currently producing the Toyota Land Cruiser 70 for export to South Africa.