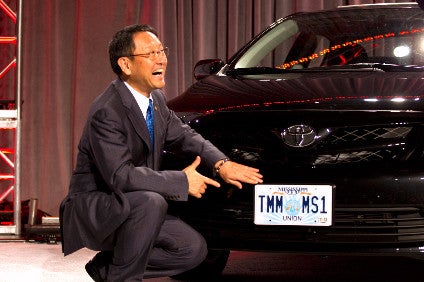 Toyota has announced a restructure that includes a reduced number of top executives.
Toyota Motor Corporation (TMC) said in a statement it would intends to alter its organisation structure in April to further boost "decision-making, strengthen management oversight, and boost business innovation".
This latest reshuffle follows substantial changes in April 2016 intended to create a company built around a product-based, rather than function-based, organisation. Toyota has since established an EV business planning unit (an in-house venture business responsible for planning and developing electric vehicles) last December, and the Emerging-market Compact Car Company (an in-house company responsible for compact vehicles with the greatest priority placed on emerging markets), in January this year.
TMC said it needs to employees who can lead with quick judgment, quick decisions and quick action, because the changes the automaker faces require a different way to think and act. It also wants to reduce time and effort absorbed by cross-functional coordination and establish work processes that allow the company to focus directly on making cars.
"This structural change is not an answer but an opportunity," said TMC president Akio Toyoda in the statement. "Let us come together to create work processes that will allow us to remain viable in an era in which we are producing and selling 10 million vehicles a year, constantly being aware that there is always a better way."
Changes will include emphasising board members are responsible for decision making and management oversight and that operating officers are responsible for operational execution and reducing the number of board members from 11 to nine, including three outsiders.
TNC will establish Gazoo Racing Company as n in-house company and set up a structure capable of accumulating technologies and techniques gained through motorsports, as first-hand knowledge for "driving seasoning" of vehicles, as well as developing and introducing vehicles that provide, it said, "genuine heart-pumping excitement".
Region-based business units will be reorganised with Toyota No.1 and Toyota No.2 units consolidated into a new organisation called Business Planning & Operation to coordinate, as a united regional function, with the product-based in-house companies.
To enable product-based in-house companies to complete work from planning through production, structures will be revised for functions including product concept planning, production planning and production engineering.
TME
In conjunction with the announcement in Japan, Toyota Motor Europe announced executive level appointments at its European headquarters in Brussels and affiliates, also effective from 1 April.
Johan van Zyl is being promoted from managing officer to senior managing officer, TMC while continuing as CEO Europe region, president and CEO of TME, executive vice president, production, TME and chairman of Toyota South Africa Motor.
Hiroaki Nanahara will become executive vice-president, sales, TME, replacing Karl Schlicht who will retire but continue as honorary chairman of TGB and advisor, TME.
Nanahara is a TMC managing officer and currently CEO, East Asia and Oceania Region. He is also responsible for Toyota planning divisions related to emerging markets.
A Reuters report from a Tokyo press conference noted that, under the new structure, only president Akio Toyoda and chairman Takeshi Uchiyamada would remain representative directors after Toyota cut the number of such posts from six.
TMC reduced the number of representative directors to centralise responsibility and accountability for the entire company, while fewer board directors would speed up executive decisions, Toyota spokeswoman Kayo Doi told Reuters.
Among key HQ changes, Osamu Nagata, previously Toyota's chief administrative officer in North America, would be promoted to chief financial officer and executive vice president, and join the board.
Mitsuru Kawai would become executive vice president in charge of factories. He joined Toyota as a plant worker in the 1960s, rising to the automaker's highest position held by a blue collar worker, the news agency said.
Board directors Mitsuhisa Kato, Takahiko Ijichi and Nobuyori Kodaira would step down and become company advisors. Senior managing officers Hirofumi Muta, Koei Saga and Soichiro Okudaira would also step down.
Muta would join truck making affiliate Hino Motors as executive vice president; Saga would become an executive advisor at Toyota and chairman of the automaker's new racing arm.
Okudaira would head compact car specialist Daihatsu which became a wholly-owned Toyota company last year.
Read analysis of Toyota Motor Corporation using just-auto's research database QUBE.