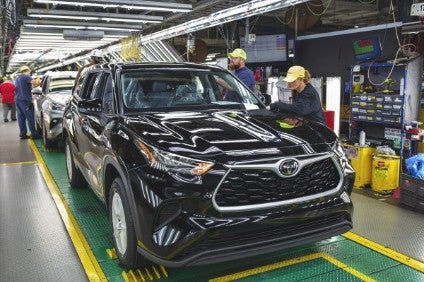 Toyota Motor announced further production cuts at the end of last week due to a combination of semiconductor shortages and covid-prevention measures.
Japan's leading automaker said it would halt operations at 20 of its 28 Toyota and Lexus production lines, in 11 of its 14 vehicle domestic assembly plants, for up to three days from last Friday. Operations are scheduled to resume on this Tuesday.
This comes in addition to the planned production cuts announced earlier this month for February, affecting eight of its 14 plants in Japan. The company had already warned that it is unlikely to meet its global production target of 9 million vehicles in the current fiscal year ending on 31st March,
With this latest announcement, Toyota will cut production by a total of 47,000 vehicles in January, as the struggle to secure enough semiconductors to carry out its production plans. The company is having to rethink its lean production strategy, based on minimal inventory, which has made it the world's most efficient vehicle producer over the last 30 years.
A Toyota spokesman said in a statement: "we are doing our utmost to deliver our vehicles to our customers as soon as possible. We deeply apologise."