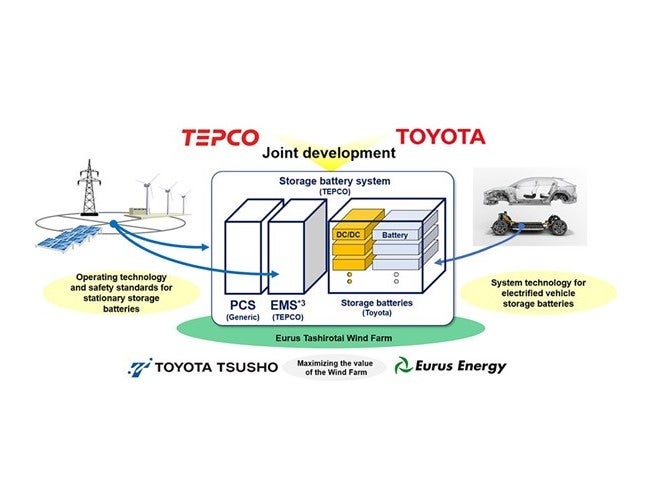 Tokyo Electric Power Company Holdings, Inc. (TEPCO) and Toyota Motor Corporation have developed a stationary storage battery system, it has been announced.
The system, which has 1 MW output and 3 MWh capacity, will be installed in the Eurus Tashirotai Wind Farm by Toyota Tsusho Corporation and Eurus Energy Holdings Corporation, and the four companies will begin a collaborative verification project later this year.
The growing trend toward carbon neutrality and electrified vehicles means that the storage battery market is expected to grow, Toyota says.
TEPCO and Toyota have jointly developed a stationary storage battery system that can connect multiple storage batteries for electric vehicles.
It is planned that the verification project will confirm the system's operation and performance as well as feasibility, including its potential for business use in the electricity market.
Toyota will work with Toyota Industries Corporation, Toyota Tsusho Corporation, and Denso Corporation to utilise storage batteries for electrified vehicles as part of its activities to move closer to a circular economy.