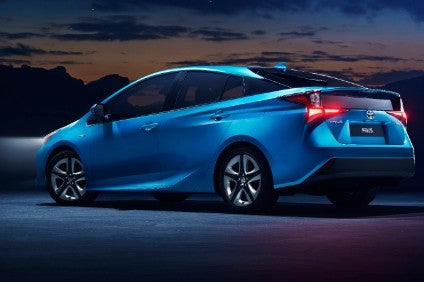 Toyota has updated its pioneering hybrid-only global model, the Prius, adding a new AWD-i electric all-wheel drive system.
The new car, also with styling, technology and performance improvements was revealed today at the Los Angeles Auto Show.
Hybrid AWD-i is, Toyota said, a new, intelligent, electric all-wheel drive system which "provides more sure-footed handling and peace-of-mind driving".
The smart system uses an additional high-torque electric motor to provide extra drive through the rear axle when required, not dissimilar to Lexus and RAV4 SUV drivetrains.
It is intended to engage automatically when pulling away, at speeds up to 7mph, and when sensors detect low-grip conditions, such is in snow or on wet and slippery road surfaces, at speeds between 7 and 44mph. The unit is compact and lightweight, with no centre differential or front to rear driveshaft, so there is minimal intrusion in boot space and little difference to fuel economy and emissions.
The AWD model has a new, compact nickel-metal hydride hybrid battery designed for excellent cold weather performance; the front-wheel drive Prius is now equipped with a new lithium-ion hybrid battery.
Styling changes include slim headlight units with new bi-beam LEDs that give a wider field of illumination. The peak point of the bumper has been raised.
At the rear, new combination lamps are fitted with new-design light guides. A new inverted trapezoid shape is integrated in the tailgate around the licence plate. There are two new paint colours – a red and an aqua Breeze – a new 17-inch alloy wheel design and a new contrast dark grey finish for the 15-inch wheelcaps.
Cabin changes include revised centre console and some instrument panel controls. New cloth upholstery has been introduced and other changes include a larger wireless charging tray to accommodate bigger smartphones, turn by turn navigation directions added to the head-up display plus a faster responding multimedia touchscreen which now can be operated using 'pinch and flick' gestures familiar from smartphone use.
First European appearance will be at the Brussels show on 18 January, Toyota Motor Europe said.