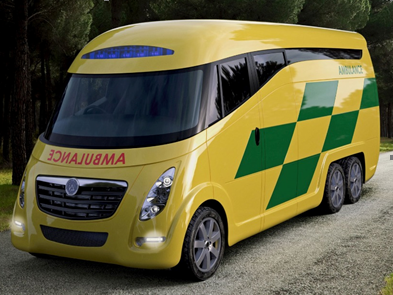 Technology and connectivity partner, Excelerate Technology, has announced it has been appointed to provide hybrid connectivity systems on the 'world's first fully electric ambulance'.
The ambulance, which is designed for a range of up to 1,000 miles, and capable – it is claimed – of reaching speeds of almost 100mph, will also showcase technology such as voice and data connectivity systems.
The ambulance has also been fitted with Excelerate's Excell antenna, used for optimising 4G and cellular connectivity.
The prototype is scheduled to be shown at the Ambulance Leadership Forum taking place on the 6th and 7th of this month in Hinckley, Leicestershire.
One feature which makes the design of the vehicle especially unique is the vehicle's double rear axle, this effectively creates a detachable trailer – due to the rear chassis section being separate from the main ambulance – which fits onto the main chassis.
When it comes to the electric power source, the vehicle's batteries are located in the depth of the trailer, housing the capacity equal to one Audi E-tron. The remaining batteries are equal to three Audi E-tron battery packs and are located in the main ambulance chassis, below floor level. Altogether, the total vehicle weight is just under 4.25 tones – meaning that it can be driven legally on roads without an HGV C1 license.
Bethan Evans, chief operating officer at Excelerate Technology, said: "We are thrilled to have been appointed supplier by INTEGRO-E for this highly innovative ambulance, which brings together the best in resilient connectivity with space age vehicle design and manufacture, one which promises to revolutionise the way in which paramedicine is delivered to improve the patient pathway, experience and, most important of all, patient outcomes."
The aim of this prototype is to name the INTEGRO-E a 'connected ambulance', making it a remote consultation room where paramedics will be able to access medical records remotely via a secure connection to the Health and Social Care Network. Alongside this, the technology enables paramedics to contact specialist clinicians to access patient conditions which will enable them to provide treatment on-route to hospitals and medical centres, which includes live video feeds over a dedicated and secure network.
Speaking about the suppliers, David Dunn, joint managing director of International Ambulances, said: "There's no better organisation, either within the blue light or open marketplace, for delivering resilient connectivity solutions than Excelerate Technology, and that's why we wanted them as our exclusive connectivity partners.