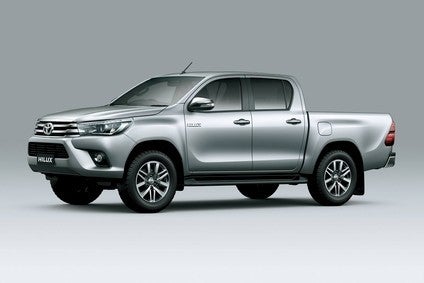 The eighth generation Hilux has been revealed to the media by TMT (Toyota Motor Thailand) and Toyota Australia.
While the new truck has the same IMV platform as the previous model, it has a new frame. TMT says there are three types of suspension specification to suit driving conditions all around the world:
Standard (suited to all road conditions the world over);
Heavy duty (for heavy loads); and
Comfort (mainly for driving on paved roads)
The Hilux is 5,335mm long, 1,855mm wide and 1,820mm high. The first engine to be available in the Thai market is a new 130kW (177PS) 2,755cc diesel, codenamed 1GD. Torque is quoted as being 450Nm and the standard transmission is a new six-speed automatic.
Sales in Australia, which should be this vehicle's largest market, are due to commence in October. The local importer says the model will be available with four engine choices, two of which are new GD Series four-cylinder diesels (the 2.8 and a 2.4-litre unit with 400Nm). The other two are petrol engines: a revised version of the 2.7-litre four-cylinder and a carried over 4.0-litre V6 from the seventh generation truck. As well as the automatic gearbox, a six-speed manual will be offered.
There will be 31 variants of the new HiLux in Australia, with 4×2 and 4×4 drive options, three cabin styles (single, extra and double) and three equipment grades (WorkMate, SR and SR5). The expansion from the former 23 variants is focused on adding more double cabs, more 4×4 variants, more diesel options and the reintroduction of the 4×4 WorkMate verison. For the first time, the HiLux range includes Hi-Rider variants – a 2WD with the ride height and heavy-duty suspension of a 4WD model.
The double cab HiLux revealed in Australia features 18-inch wheels on a body that is 70mm longer and 20mm wider, with a slightly lower roofline. The range also includes 16 and 17-inch wheels, and in response to customer feedback, an 80-litre fuel tank.
In the Aussie market, the model name has been HiLux for 47 years. This continues for the eighth generation.