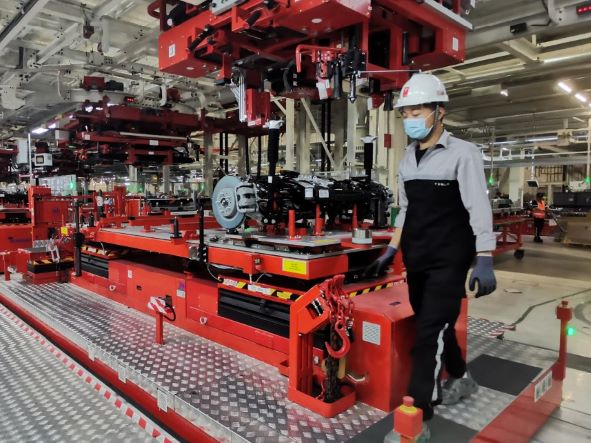 Production at Tesla's Shanghai vehicle plant rebounded strongly in August after the company made significant capacity upgrades to the factory in July.
According to data released by the China Passenger Car Association (CPCA), the plant's domestic sales and exports amounted to 77,000 units combined last month, a 74% rise year on year.
Domestic sales amounted to around 34,500 units in July while exports amounted to 42,500.
The Model Y is now the best selling Tesla in China with sales exceeding 62,000 units last month while deliveries of the Model 3 came in at just under 15,000 units, according to CPCA.
Tesla in July said its Shanghai plant had annual production capacity of 750,000 units, comprising the Model 3 and Model Y, making it the EV maker's largest and most profitable plant worldwide.
Local reports now suggest, after the upgrades, the Shanghai facility is likely to have a production capacity of between 1.1-1.2 million units, or 100,000 vehicles per month.
In the first eight months of 2022, the Shanghai plant was reported to have delivered just under 400,000 vehicles, a 67% rise year on year, which included prolonged periods of stoppages in the second quarter during the Covid lockdown of Shanghai and disruption in July due to capacity upgrades.
According to CPCA, Tesla delivered 1 million vehicles from its Shanghai plant since it opened in December 2020, including 634,000 in the last year.