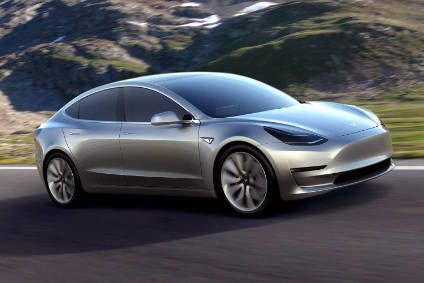 Tesla Motors says that reservations for Model 3 have now surpassed 325,000, which corresponds to about US$14bn in implied future sales, making this – it says – the "single biggest one-week launch of any product ever".
Tesla also notes that the interest has spread completely organically. Unlike other major product launches, Tesla did not need to advertise. The company said that it was a "true grassroots effort driven by the passion of the Tesla team that's worked so hard to get to this point and our current and future customers who believe so strongly in what we are trying to achieve".
Most importantly, the company added, we are all taking a huge step towards a better future by accelerating the transition to sustainable transportation.
The Model 3 was unveiled last week and goes into production in late 2017. Tesla hopes that the model will take it into much higher volume territory alongside batteries supplied by its new purpose built 'Gigafactory' in Nevada. Earlier this week, Tesla revealed that it has had production difficulties with the Model X due to the model's complexity and some critical parts shortages. However, it also said that it has taken actions to resolve the issues and that it remains on track to deliver 80,000 to 90,000 new vehicles in 2016.
See also:
Tesla cites its own 'hubris' behind slow rollout of Model X
COMMENT – The make or break road ahead for Tesla's Model 3