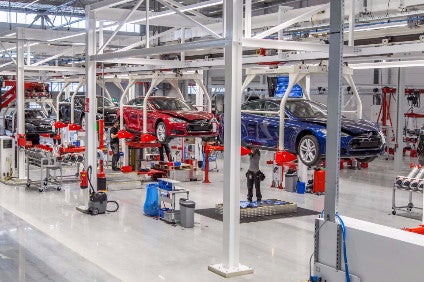 Tesla has reported a sharp increase in sales and a ramp-up in production of its Model 3 towards the end of the last quarter of 2017. It also said it has made 'major progress' in addressing production line bottlenecks.
In Q4 2017, Tesla delivered 29,870 vehicles, of which 15,200 were Model S, 13,120 were Model X, and 1,550 were Model 3. This was a record quarter for combined Model S and X deliveries, representing a 27% increase over Q4 2016, and a 9% increase over Q3 2017, the company's previous best quarter.
In total, Tesla said it exceeded its previously announced guidance by delivering 101,312 Model S and X vehicles in 2017. This was a 33% increase over 2016.
In addition to Q4 deliveries, about 2,520 Model S and X vehicles and 860 Model 3 vehicles were in transit to customers at the end of the quarter. These will be counted as deliveries in Q1 2018, the company said.
Q4 production totalled 24,565 vehicles, of which 2,425 were Model 3. Tesla slightly reduced Model S and X production in Q4 because of the reallocation of some of the manufacturing workforce towards Model 3 production, which also caused inventory to decline.
'Major progress' on Model 3 bottlenecks
During Q4, Tesla said it made 'major progress' addressing Model 3 production bottlenecks, with the production rate increasing significantly towards the end of the quarter. In the last seven working days of the quarter, Tesla made 793 Model 3s, and in the last few days, it says it hit a production rate on each of our manufacturing lines that extrapolates to over 1,000 Model 3s per week. As a result of the significant growth in production rate, Tesla made as many Model 3s since December 9th as it did in the more than four months of Model 3 production up to that point.
Tesla says it will 'continue to focus on quality and efficiency rather than simply pushing for the highest possible volume in the shortest period of time', and expects to have a slightly more gradual ramp through Q1, likely ending the quarter at a weekly rate of about 2,500 Model 3 vehicles. The plan is for that to rise to 5,000 per week by the end of Q2.