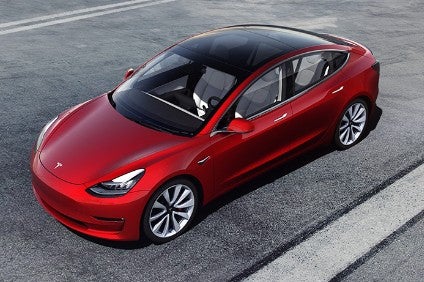 Tesla reportedly is developing a revamped version of Model 3, according to four Reuters sources, as the EV maker aims to cut production costs and boost the appeal of the five-year-old electric sedan.
One focus of the redesign codenamed Highland is to reduce the number of components and complexity in the interior while focusing on features buyers value, including the display, according to the news agency sources.
Reuters said the previously unreported redesign came as the electric sedan faced increased competition from models from the likes of China's BYD, Hyundai and coming releases from other major automakers.
The revamped EV, which could also include some changes to the Model 3's exterior and powertrain performance, would go into production at Tesla's factory in Shanghai and the company's Fremont, California plant, two of the Reuters sources said. The Shanghai Gigafactory would put the redesigned Model 3 into production in the third quarter of 2023, they added.
It was not clear when production would start at Fremont or how large a cost savings Tesla would achieve from the redesign as it worked with suppliers, the report said.
Tesla CEO Elon Musk had pushed a simplified approach to design and production at Tesla that the Highland project extends, the Reuters sources said.
It had pioneered the use of massive casting machines known as Giga Press and built by IDRA Group in Italy to make single, larger pieces of a vehicle in assembly, reducing cost and speeding production. It had also designed a structural battery pack that did away with more expensive modules.
Musk had said Tesla was looking to drive costs down through simplification and working on a small-car platform that would be half the cost of the Model 3, Reuters noted.
"Over and over, we found parts that are not needed. They were put in there just in case or by mistake. We eliminated so many parts from a car that did nothing," Musk said in an interview at a Baron Funds conference earlier in the month.
In the third quarter, Tesla made a profit of just over US$9,500 for every car sold, compared to roughly $1,300 for Toyota, according to disclosures by both companies cited by Reuters.
Sales for the Model 3 in China fell 9% in the first 10 months from a year earlier, while BYD's Qin and Han electric sedans outsold the Model 3, according to China Passenger Car Association data cited by the news agency.
To boost sales, Tesla cut prices for Model 3 and Model Y in China by as much as 9% in October and offered an additional rebate for buyers who took immediate delivery, Reuters said.