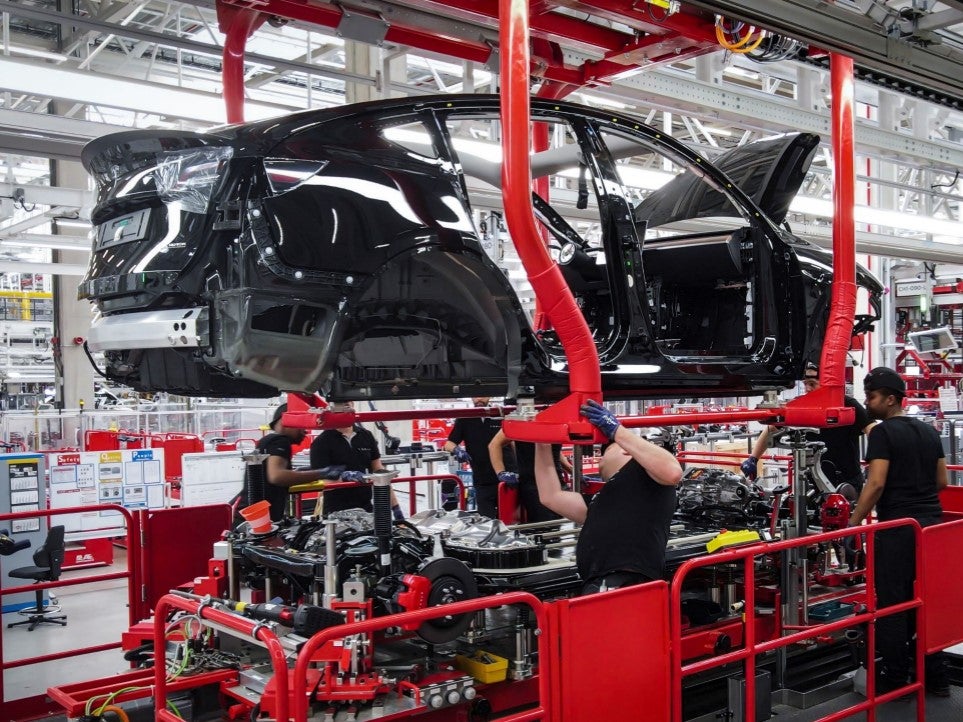 As already seen in China and the US, Tesla's Model Y is now outselling the Model 3 in Europe – it was the globe's best-selling BEV in 2021.
With 29,367 registered units, up 227%, the Model Y accounted for almost three in every 100 new cars registered in Europe last month, marking the first time the electric SUV has led the European ranking, according to JATO Dynamics analysis.
In Germany, the Model Y outsold the Volkswagen Golf to lead the overall ranking, and of the EU27 markets, it was the best selling BEV in other 14 countries.
In second place was the Peugeot 208, while other strong performers include the Skoda Octavia, VW T-Roc, and Nissan Qashqai which re-entered the top 10 [possibly boosted by recently launched electrified variants – ed].
Further down the rankings, several models recorded significant increases, notably the Kia Sportage (+53%), Ford Kuga (+89%), Volkswagen Tiguan (+58%), the Ford Fiesta [for which the end of production has just been announced] (+87%), Cupra Formentor (+97%), Audi A3 (+70%), Renault Megane (+119%), Peugeot 308 (+175%), Mercedes C-Class (+203%), Mercedes CLA (+52%) and Mercedes GLA (+157%).
Among recent model launches, the Dacia Jogger registered 5,906 units while others include the VW Taigo (5,326 units), Cupra Born (3,443), Mazda CX-60 (2,759), BMW i4 (2,429), VW ID.5 (2,245), Volvo C40 (1,911), Mercedes EQB (1,882), Alfa Romeo Tonale (1,574), DS 4 (1,428), Citroen C5 X, (1,147), Nissan Ariya (1,047), and Mercedes EQE (1,005).
In September 2022, the European new car market saw growth for the second consecutive month, following the 3.5% increase seen in August.
The number of units registered reached 1,038,481, up 7.5% from 965,595 in September 2021.
Volume remained stable during the third quarter of 2022, compared with Q3 2021, at 2.65m units, however this was considerably lower than Q3 2020 and Q3 2019 at 3.44m and 3.66m units, respectively.
JATO Dynamics global analyst Felipe Munoz said: "The market lost 1m units per quarter over the last three years.
"While a catastrophe in terms of volume relative to production capacity, the majority of OEMs have now properly adapted to this new reality".
Year to date, volume fell 10% to 8,182,818 units, while registrations were 3.6% lower than January to September 2020, and 32% lower than the 12m units registered during the first nine months of 2019.
EVs on the rise again
After a period of slow growth, demand for pure electric cars (BEV) increased significantly in September with 160,869 units registered. Volume increased 15%, accounting for 15.6% of the total registrations, the second largest monthly market share after December 2021.
While Norway and Italy saw decreases of 17% and 42%, Europe's largest markets continued to show positive results.
Germany led the way accounting for 27% of the total European demand, an increase of 29%.
The UK followed with volume up 16% and 24% market share. France was third with 14% of the EU27 market and a volume rise of 32%.
In September, these three markets combined accounted for 60% of European BEV demand.
In September, Tesla performed particularly well, a trend seen during the last month of each quarter, accounting for just over 25% of the BEVs registered in Europe.
With the Model Y now produced in Germany, Tesla was able to offset the 50% decrease seen for the Model 3.
That midsize sedan continued to struggle, mostly due to a lack of stock coming from China, and the increasing popularity of its SUV sibling.
Compared with Q3 2021, Tesla volume increased 17%, almost double the volume of Q3 2020, and 77% higher than Q3 2019.
Excluding Tesla, MG was among the top 10 brands with highest percentage of BEVs as part of total registrations at 42%. In second place, Renault followed with 18%.
Reflecting recent trends, the volume of plug-in hybrid electric vehicles (PHEV) increased 7% compared to September 2021 with 87,712 units registered.