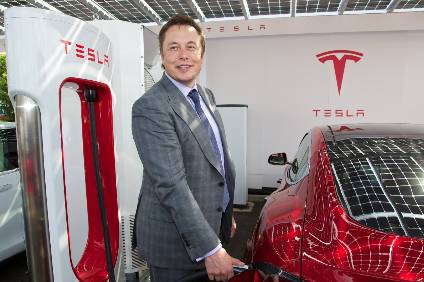 Tesla is the automotive industry's top company performer according to analysis undertaken by research firm GlobalData.
Tesla tops GlobalData's 'Thematic Screen' which ranks automotive companies according to themes that matter most to the industry, generating a leading indicator of future performance.
"For some time now, Tesla has outperformed the sector in terms of measures such as market capitalisation," says Calum MacRae, Automotive Analyst at GlobalData.
"Our latest analysis keeps Tesla firmly at the top of the global car company rankings. Although Tesla volume is small relative to long established car companies such as Toyota, it possesses a number of attributes that mean it will continue to outperform the sector."
Tesla also scored highly in GlobalData's analysis of manufacturing capacity utilisation across the global auto industry. Tesla had a manufacturing capacity utilisation rate in excess of 90% in 2019.
"The capacity utilisation analysis reflects relative performance and clearly Tesla electric cars are in high demand globally and mainly sourced from a single plant in the US, creating an exceptionally high rate of capacity utilisation. It is now bringing new capacity on stream in Shanghai and another plant is coming in Berlin which will alter the global capacity dynamic for Tesla over the next five years," MacRae says.
"Overall, the outlook for Tesla is very positive and it is also emerging as relatively unscathed from the current crisis. It has a favourable mix of upcoming products, high levels of engineering expertise, modern facilities as well as retail and marketing strengths that will mark it out as a winner in the post-COVID-19 business landscape," MacRae maintains.
The GlobalData analysis of manufacturing capacity utilisation in 2019 also shows Honda, Toyota, Geely and BMW as sector leaders, with underperformers including Ford, Renault, Nissan, Tata Motors and Zotye.
"The automotive industry has always operated with a degree of oversupply so that output can be adjusted for overall demand swings, competitive gains and changing model mix. However, excess and long-term structural overcapacity is a drag on profitability and poses a very serious problem for some companies," adds MacRae.
GlobalData Thematic Screen Top Ten (September 2020)
1. Tesla
2. Geely
3. Toyota
4. BYD
6. BMW
7. Nissan
8. Volkswagen
9. Honda
10. Hyundai Motor
Capacity 'leaders and laggards' (based on 2019 data*)
US OEMs
Leaders: Tesla and GM
Laggards: Ford and FCA
European OEMs
Leaders: Daimler and BMW
Laggards: PSA and Renault
Japan/Korea OEMs
Leaders: Honda, Toyota and Subaru
Laggards: Isuzu, Nissan and Hyundai
Chinese/India OEMs
Leaders: Geely, BYD, SAIC GM Wuling
Laggards: Hawtai, Tata Motors, Zotye
*Source: GlobalData analysis