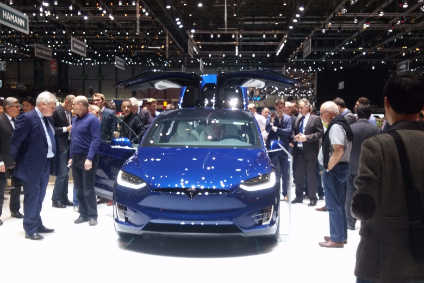 Among the factors cited by Tesla as causes behind slow sales of the Model X in the first quarter are the company's own "hubris in adding far too much new technology to the Model X in version 1".
The astonishing admission came in a statement from Tesla that explained why it delivered just 14,820 vehicles in the first quarter. Tesla explained the reasons behind Model X parts shortages and also claimed that severe parts shortage issues have now been resolved and that it is on track for full-year delivery guidance.
Tesla Q1 deliveries consisted of 12,420 Model S vehicles and just 2,400 Model X vehicles. Overall Q1 deliveries were almost 50% more than Q1 last year and Tesla said it "remains on track to deliver 80,000 to 90,000 new vehicles in 2016".
Tesla acknowledged, however, that the Q1 delivery count was impacted by "severe Model X supplier parts shortages in January and February that lasted much longer than initially expected". Once these issues were resolved, production and delivery rates "improved dramatically" it said. By the last full week of March, the build rate rose to 750 Model X vehicles per week, Tesla said. However many of these vehicles were built too late to be delivered to their owners before end of quarter.
In an example of car company candidness that will raise many eyebrows, Tesla said the root causes of the parts shortages were:
Tesla's hubris in adding far too much new technology to the Model X in version 1;
insufficient supplier capability validation;
and Tesla not having broad enough internal capability to manufacture the parts in-house.
Tesla said the parts in question were only half a dozen out of more than 8,000 unique parts, but that "nonetheless missing even one part means a car cannot be delivered". Tesla is addressing all three root causes to ensure that these mistakes are not repeated with the Model 3 launch, it said.
Because production is now on plan and Q1 orders exceeded Q1 deliveries by a wide margin, with Q1 Model S orders being 45% higher than Q1 last year, Tesla reaffirmed its full-year delivery guidance.
The company said that "these additional details are being provided because of the unusual circumstances of this quarter and will not typically be provided in quarterly delivery releases going forward".
See also: