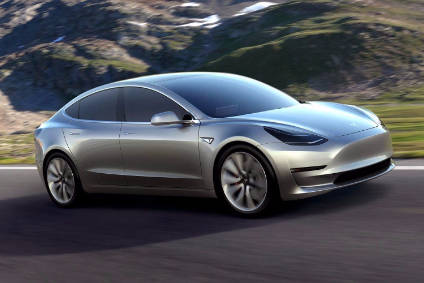 Tesla Motors, which plans to be building half a million electric vehicles a year at its only production plant, has bought Grohmann Engineering. Much of the reason for buying the firm is to tap its expertise in robotics for the production of cars and battery packs at Tesla's existing and future factories.
The company, which will be renamed Tesla Grohmann Automation, is based in Prüm. The town, which is also the headquarters of chainsaw and blower manufacturer Stihl, is in Germany's far west.
Tesla says that its subsidiary will continue to be headed up by founder and CEO Klaus Grohmann.
"We expect to add over 1,000 advanced engineering and skilled technician jobs in Germany over the next two years," a company statement notes.
"Under the continued leadership of Mr Grohmann, several critical elements of Tesla's automated manufacturing systems will be designed and produced in Prüm to help make our factories the most advanced in the world. Combined with our California and Michigan engineering facilities, as well as other locations to follow, we believe the result will yield exponential improvements in the speed and quality of production, while substantially reducing the capital expenditures required per vehicle," the media release adds.
Tesla says it has expanded its Fremont factory by 400% over the last four years, and expects its new acquisition to contribute to better economies of scale and further manufacturing gains. The often mentioned target of half a million cars a year is due to be met in 2018. That would require the Model 3 to be launched on time and to presumably then have an immediate and very aggressive ramp up. Tesla is presently on course to build some 80,000 cars this year. High volume production of the Model 3 will be taking place at Fremont in late 2017, Tesla's CEO Elon Musk has now stated.
The agreement to acquire Grohmann is contingent upon clearance from regulators. Pending their approval, Tesla expects the transaction to close in early 2017. No price has been publicised.
Elon Musk flew to Germany to make the announcement earlier on 8 November. Speaking to the press he repeated a recent claim that his firm intends to have what he calls 'Gigafactory 2' built in Europe. Gigafactory 1, presently under construction in Nevada, was supposed to be for the production of battery packs and associated components but vehicle drive systems are now said to be planned to be assembled there too. Musk also told reporters that cars would be made at G2 and that Fremont will eventually have a capacity of 500,000-1,000,000 vehicles a year.