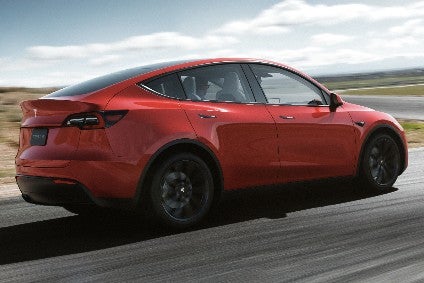 Tesla last night announced a Q1 2019 loss as revenue rose, but not as much as analysts expected.
According to marketwatch.com, Tesla lost US$702m, or $4.10 a share compared with a GAAP loss of $4.19 a share a year ago but, adjusted for one-off items, lost $494m, or $2.90 a share, compared with -$3.35 a share in Q1 2018.
Revenue reached $4.5bn versus $3.4bn.
Analysts polled by FactSet had expected an adjusted loss of $1.15 a share on sales of $5.4bn for the quarter.
Tesla has reported third- and fourth-quarter 2019 GAAP and adjusted profits.
"I'm not surprised to see the stock flattish after the release because expectations were so low heading into it, with the stock down more than 22% year to date," Garrett Nelson, an analyst with CFRA, told Marketwatch.
The report said Tesla lost $121m because of increases in the forecast return rates for cars sold under its residual value guarantee and buyback guarantee programmes, "as well as inventory write-downs for used and service loaner inventory."
Tesla also lost $67m due to a combination of restructuring costs and other non-recurring charges. It has announced layoffs for 2019 as it expects to close some underperforming outlets and has shifted sales to online-only.
In a call with analysts, Musk said over half of Tesla 's first-quarter deliveries occurred in the last 10 days of the quarter, making for "the most difficult logistics I have ever seen, and I've seen some tough ones".
As a result, large number of vehicle deliveries were shifted to the second quarter, affecting the first quarter's net income as Tesla "could not get the vehicles to customers in time", Musk said, according to Marketwatch.
He added Tesla was working on balancing out its overseas and North American deliveries which will reduce strain on the EV maker, result in a much better delivery experience for customers, and have a "very positive" effect on the company's working capital.
Tesla could return to making a profit by the third quarter, CFO Zachary Kirkhorn said on the call, according to Marketwatch.
Tesla is "working extremely hard and making terrific progress on improving the cost efficiency of the business without sacrificing growth", Kirkhorn said.
Tesla reaffirmed its earlier outlook of delivering 360,000 to 400,000 vehicles this year and said production would be "significantly higher" than deliveries. It said it continues to target a 25% non-GAAP gross margin on Model S, Model X and Model 3 vehicles, Marketwatch said.
For the second quarter, the company expects delivery of 90,000 to 100,000 vehicles.
Karl Brauer, executive publisher at Kelley Blue Book and Autotrader, said: "Everyone expected a Q1 loss for Tesla , but nobody expected it to be this big.
"What's interesting is how there really isn't a single, substantial factor driving this.
"Instead it's a combination of smaller factors coming together.
"You have the tax rebate loss. You have the initial rush of Model 3 demand fully satiated. And you have the increased level of Tesla alternatives.
"None of these issues, by themselves, would cause the severe drop in sales and revenue Tesla experienced in Q1, but the combination was powerful.
"Even more troubling? None of these issues are going away. This is the new normal for Tesla ."