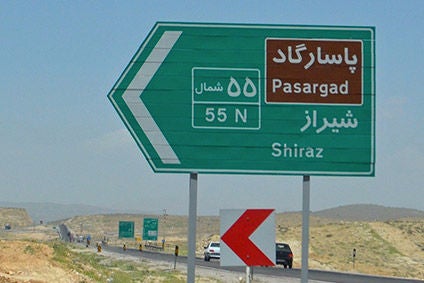 Russia says it is working with Iran to establish a free trade zone as historical ties between the two countries start to revive following the ending of economic sanctions imposed by the West.
The recent ending of sanctions is triggering a virtual stampede of automakers and parts suppliers to Iran, anxious to tap into a young, educated population hungry for products such as new vehicles, which some estimate could see a 3m market by 2025.
Both Tehran and Moscow have provoked the ire of London, Paris, Brussels and Washington through the former's attempts to enrich uranium, which some believed could be used for nuclear weapon development, while the latter's annexation of Crimea unleashed a wave of sanctions against the Kremlin.
"[President Vladimir] Putin's [November] visit to Tehran [meant] a very good number of documents were signed and it provided new impetus to trade and economic development," said Russian Energy Minister, Alexander Novak at last week's International Economic Forum (SPIEF) in St Petersburg.
"Our countries have much in common – our relations historically have been centred around many interesting facilities of infrastructure and so on. We know Russia did a good job in lifting sanctions against Iran.
"We are talking about co-operation, about a free trade zone [and] our first working group held its meeting. Another trend is about huge projects we identified as key: agriculture, transport and industry.
"We have calculated it is about US$40bn minimum potential level of projects that may be implemented. We are working on joint ventures of car assembly [for example], the sales of aircraft."
Iran anticipates domestic automotive content will reach 80% as the country continues to reap the benefits of sanctions ending and one recent example is PSA Groupe, which recently inked a US$436m joint venture deal with Iran Khodro, against a proviso 40% of components must be sourced locally.
The 50:50 joint venture will build a Tehran factory to produce vehicles on a platform IKCO will share to develop its own models, as well as assemble Peugeot's 208, 2008 and 301 for local sale.
"One issue we face in the post-sanctions period, we should be looking for financial support that will be competitive with Western proposals and Chinese proposals," added Novak. "They appear to be more competitive."
"Since our economy is open for investors, of course we include foreign investors. We invite Iranians to invest into Russia – it is good to complement one another."
Iran industry minister, Mohammad Reza Nematzadeh, confirmed to just-auto on the sidelines of SPIEF 16, Peugeot local content would rise from 40% 80%, with that eventfully applying to all automakers.