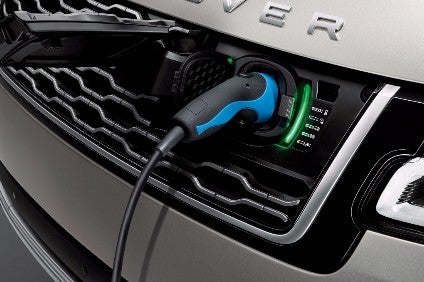 Tata Motors' Jaguar Range Rover has updated its flagship Range Rover for 2018 with a redesigned cabin, some new technology and the addition of a new plug in electric petrol hybrid powertrain as recently announced for the Range Rover Sport.
The PHEV has total power/torque output of 404hp (297kW)/640Nm, combined NEDC fuel economy of 101mpg (2.8 l/100km), combined NEDC CO2 emissions of 64g/km, an electric only range of 31 miles and a rapid charging time of two hours 45 minutes.
A new Touch Pro Duo infotainment system with twin high definition touch screen controls is described as "a digital butler fit for the 21st century" and a new 565hp SVAutobiography Dynamic version has V8 supercharged performance (0-60mph in 5.1 seconds).
Order books are now open for early 2018 delivery.
Cabin changes include front seats with up to 24 way movement thanks to new seat frames with wider and deeper foams as well as heated arm rests.
The rear is completely redesigned with a new seating layout. Seats offer 25 massage programmes using hot stone massage technology within the seat backs.
Wider, softer seats recline by up to 40 degrees, can be heated and cooled seats, plus while arm, foot and calf rests are heated. All seat functionality can be controlled via a smartphone app from inside or outside the vehicle.
Up to 17 connection points including domestic plug sockets, USB, HDMI and 12 volt are available and there is a 4G Wi-Fi hotspot for up to eight devices.
"Our customers are very clear about what they want from any new Range Rover. 'Don't change it, just make it better,' they tell us, so everything we've done has been about enhancing our flagship SUV," said Gerry McGovern, chief design officer, Land Rover
The new infotainment system, Touch Pro Duo, combines two high definition 10-inch touch screens on the centre console. Information can be swiped from one screen to the other.
The new P400e PHEV version combines a 300hp (221kW) two litre, four cylinder, Ingenium petrol engine with an 85kW electric motor. The 404hp (297kW) combined power output through the permanent four-wheel drive system delivers 0-60mph in 6.4 seconds and a maximum speed of 137mph. There are various drive modes as first seen on the Sport PHEV.
When rapid charging the 13.1kWh high-voltage lithium-ion battery, a full charge can be achieved in twohours 45 minutes at home using a dedicated 32 amp wall box. The battery can be fully charged in seven hours 30 minutes using the 10 amp home charging cable supplied as standard. The battery is covered by an eight year, 100,000 mile, 70% state of health warranty.
The petrol engine is longitudinally mounted with the 85kW electric motor housed in the ZF automatic eight speed transmission at the centre of the vehicle alongside the 7kW charger. The access point for the cable is at the front of the vehicle, while the prismatic cell lithium-ion battery is mounted at the rear beneath the boot floor. The P400e is available in both standard and long wheelbase body styles.
New technology includes a gesture sunblind opened and closed by an advanced gesture control system that senses an occupant's hand movement, cabin air ionisation which uses nano-sized charged water particles to cleanse and purify the air, pixel laser LED headlights that are brighter yet intelligently blanks sections of LEDs to avoid dazzling oncoming drivers and the JLR activity key which can lock and unlock their vehicle without the need to carry a conventional key fob.
A new SVAutobiography Dynamic version has a 565hp supercharged petrol V8 engine which delivers 0-60mph in 5.1 seconds. Design revisions include an exclusive mesh grille design with chrome inserts and a revised rear bumper with integrated metal tailpipe finishers.
Production is at Solihull.