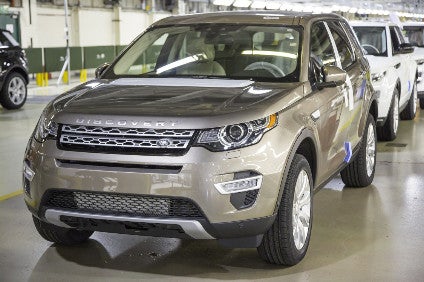 Tata Motors' Jaguar Land Rover boosted sales of its premium luxury vehicles 20% worldwide in 2016 to a record 583,313 units.
JLR said its sales had almost tripled since 2009. Jaguar volume rose 77% to a record 148,730 vehicles while Land Rover was up 8% to 434,583.
This was the company's seventh successive year of growth in sales. December volume was up 12% to 55,375. Retail volumes were up 36% in China – its strongest monthly performance on record.
Full year 2016 showed balanced regional results with record retail sales in the UK, North America and Europe.
Europe was the company's largest sales region in 2016 with annual sales of 138,695, up 26% year on year. Retail sales were up across all other regions: 31% in China, 25% in North America and 17% in the UK to 117,571.
Various models were updated across the range in 2016 with the Land Rover Discovery Sport and the Jaguar F-Pace expanding model lines.
"It is particularly pleasing to see the Jaguar brand setting impressive new sales records. Customer response has been very positive this year, resulting in record retails across most of our key regions. These results mark significant steps in Jaguar Land Rover's strategy to become a truly global business and meet the growing international demand for its two iconic brands. I am confident that in 2017 our British line-up will continue to expand and delight in markets across the world," said Andy Goss, group sales operations director.
The automaker's best seller for the year was the Discovery Sport, retailing 122,460 vehicles, up 76%.