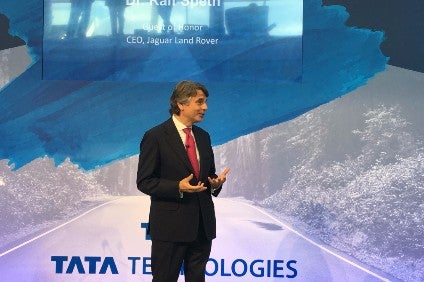 In a reversal of fortunes that surely will please owner Tata Motors, Britain's Jaguar Land Rover has booked a pre-tax profit after three consecutive quarters of red ink.
According to the Financial Times (FT), the company reported GBP120m of pre-tax earnings for the quarter to 31 March, 2019.
The 'pink paper' said this came after GBP149m in redundancy costs and a GBP3.6bn loss for the full fiscal year to 31 March, due partly to a large writedown from the third quarter.
Reports were circulating in the UK earlier this month Jaguar Land Rover could be sold as it looked to arrest sales falling 5.8% year on year, with the China market plunging 34% reflecting weaker conditions. Rumours suggested PSA might be looking to acquire JLR but the French company remained tight lipped although it told just-auto it was "open to opportunities." A document reportedly examining any potential benefits from a merger of JLR with PSA was said to be in circulation. The French company had earlier been reported to have JLR in its sights along with other potential takeover targets.
As well as slowing sales in China, JLR has been hit by a slump in demand for diesel in the UK and Europe plus weak demand for some models in the crowded sport utility vehicle segment, the FT noted.
JLR announced in January it was cutting 4,500 jobs from its global workforce, with most of the reduction set for the 40,000-strong UK workforce. The company described cost-cutting measures as the 'next phase of major transformation plan to lay foundations for long-term sustainable profitable growth'. The headcount reduction was in addition to the 1,500 who left the company during 2018 and this next phase would begin with a voluntary redundancy programme in the UK. JLR said the GBP2.5bn strategic review would 'create a leaner, more resilient organisation with a flatter management structure.'
The FT said the auto group wrote down GBP3.1bn in the third quarter due to falling demand for some of its newest vehicles, as well as for diesel technology that had been hit by political opposition and the threat of bans in some areas.
The business made an annual loss of £358m once the writedown and the redundancy costs from the final quarter were taken out, the FT added.
Sales in the final quarter were down £461m to £7.1bn, with higher revenues in the UK and US offsetting another slide in China, the report added.
Chief executive Ralf Speth told the Financial Times the turnround programme had already taken GBP1.25bn of cost out of the business.
"We are taking concerted action to reduce complexity and to transform our business through cost and cash flow improvements," he said.
"We will go forward as a transformed company that is leaner and fitter, building on the sustained investment of recent years in new products and the autonomous, connected, electric and shared technologies that will drive future demand."
Jaguar Land Rover sales down in April
Jaguar Land Rover fiscal year sales fall but some markets bright