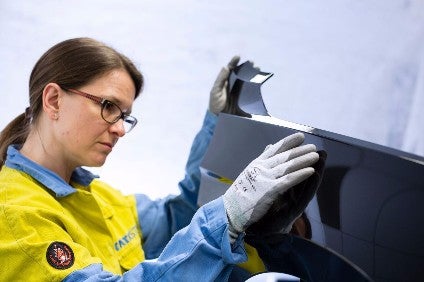 Tata Steel said it had worked with "a leading European vehicle manufacturer" to expanded its Serica premium surface finish range for automotive exposed panels.
It claims to be the first steel supplier to offer a range of guaranteed 'waviness' levels after forming, available on various steels for outer panels. Several variations of the Serica product allow car makers to tune the required 'waviness' level of outer panels to minimise the visible contrast in paint appearance between adjacent parts.
"They are thereby able to achieve a more homogeneous paint result across their outer panels," the supplier said.
In addition to the original product, now called Serica 32 as it guarantees a low waviness of 0.32µm after forming, Tata Steel has launched an even lower guaranteed waviness, of 0.29 µm after forming, with its new Serica 29 steel. This is said to be a unique steel specification available up to 1,630mm wide for the hot dip, galvanised, bake hardening 180 grade (BH180). Capability for bake-hardening steels BH220-260 is under development. Serica 35, with its guaranteed waviness of 0.35 µm after forming, completes the surface range.
Tata Steel said final paint appearance is largely determined by the waviness of the steel substrate, as a high surface waviness can lead to a visible structure in the paint coat. The waviness level, after deformation during pressing of the part, should therefore be reduced to a level that has minimal visibility to the human eye. Due to differences in forming and paint processes, two adjacent parts can show a visible contrast in paint appearance which is undesired and harms the aesthetics. A marginally formed and horizontally painted bonnet features significantly lower waviness values in the final paint layer than a more heavily formed and vertically painted fender. As both parts are adjacent in the car, the contrast in paint appearance between them needs to be minimised – which can be achieved with the expanded Serica product line and its multiple guaranteed waviness values.
The multiple levels of guaranteed waviness are achieved by specific modifications to the steel manufacturing process. Adjustments in chemistry, rolling parameters and galvanising settings result in tightly controlled roughness properties and stability of these properties during deep drawing.
Basjan Berkhout, marketing manager for body in white applications, said: "Serica 29 has been developed as an extension to the Serica portfolio because Tata Steel and its automotive partner found that the judgement about the quality of the paint coat is not only about the absolute (low) level of the waviness, but also about the harmony in paint appearance between the various outer panels. By being able to guarantee a range of waviness levels on various steels, our products are enabling further improvements in vehicle aesthetics."