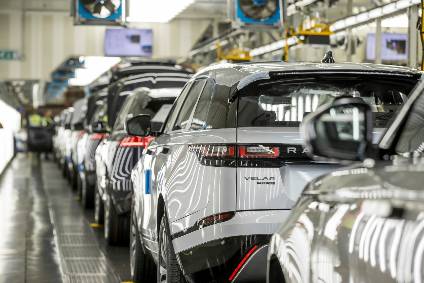 The UK reportedly has won over Spain for a multi billion pound electric car battery plant in Somerset county.
The BBC said executives from Jaguar Land Rover owner Tata were expected to fly to London next week to finalise the deal. The chairman was scheduled to meet the prime minister mid-week.
It noted some in the car industry had described the plant as the most significant investment in UK automotive since Nissan came to Britain in the 1980s.
BBC sources said, though the deal had yet to be signed, engagement had moved from negotiations to drafting and choreography of how the landmark agreement will be presented.
Up to 9,000 jobs would be created at the Bridgwater site, close to the M5 motorway.
The UK government had earlier acknowledged the urgent need for electric vehicle battery manufacturing in the UK to secure the future of the car industry which employs 800,000 people directly and in the supply chain.
The BBC said Tata was considering an alternative site in Spain and the expected decision to choose Somerset would be presented as a major achievement for the UK government.
The government had been criticised for lacking a clear industrial strategy and falling behind the US and EU in attracting investment.
The UK's expected success has not been easily or cheaply won, the broadcaster said.
The government had conceded help worth hundreds of millions of pounds in the form of cash grants, energy subsidies and other training and research funding.
India based Tata has extensive steel interests in the UK and the government would also offer around GBP300m to subsidise, upgrade, and decarbonise those operations, the broadcaster said.
Along with additional energy discounts, that would bring the total incentive package to Tata close to GBP800m.
Government sources conceded to the BBC that, while the two investments would not be announced at the same time, the two projects were linked.
The Somerset site's access to power, a skilled UK automotive workforce and the British heritage of Jaguar Land Rover's brands were also cited as helping the UK bid.
Although the price tag would be seen as high, the BBC said, the UK was reluctantly involved in an international subsidy war escalated recently by the US Inflation Reduction Act – legislation offering US$370bn (GBP299m) in incentives to companies prepared to locate production and supply chains in the US. The EU was preparing its own package in response.
Only one EV battery plant is in operation in the UK at present, next to Nissan's Sunderland factory, and one is still on the drawing board in Northumberland after Britishvolt failed.
By contrast the EU has 35 plants open, under construction or planned, the BBC noted.