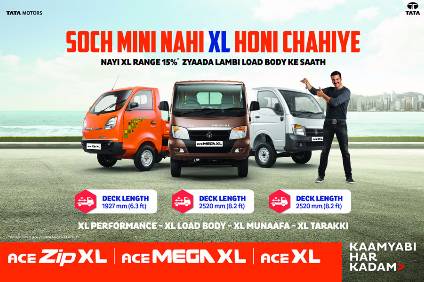 Tata Motors says it has extended its Ace brand family of vehicles by the introduction of the new XL range of small commercial cargo vehicles. The XL range of small commercial cargo vehicles will be available in all dealerships across India.
RT Wasan, Head of Sales and Marketing, Commercial Vehicles, Tata Motors said: "Tata Motors has been a pioneer in creating and growing the Small Commercial Vehicle market in India with its varied portfolio in this segment. Being the market leader in this segment, we understand our customer requirements very well and the new XL range emerges out of this in-depth knowledge and consumer insight. With the introduction of BS-IV complaint XL range of SCV, we are offering a complete portfolio of last mile delivery solutions and addressing the emerging needs for a safer, economical, and more reliable business transport solutions. With application based offerings and benefits of being backed by a host of value added services under the Tata Motors Sampoorna Seva, we are geared to provide all our customers with a unique differentiator, for sustainable and profitable business solutions. With close to 2m vehicles on the Ace platform, plying on the roads today, Tata Motors is the undisputed market leader in the segment."
Tata says the vehicle is strategically designed to perform all tasks for the last mile cargo movement and 'hence will be an all-rounder in this segment, helping the operator elevate their business'.
Speaking on the key attributes of the new XL range, Vinay Pathak, head – Product Line, SCVs, Tata Motors, said, "Designed and developed for enhancing customer experience and maximising revenues of the transport operators, the new BS-IV compliant XL range comes with 15% longer load carrying capacity and is built to offer best-in-class last mile transport solutions. The XL range comprises of the Ace Mega XL, Ace Zip XL and Ace XL. The new XL range will carry more voluminous cargo and provide operators with superior performance, increased profitability due to more speed and load carrying capacity, low cost of ownership and improved style and increased driving comfort with new power steering. With the launch of the XL range, Ace Mega XL, Ace Zip XL and Ace XL, Tata Motors has the widest range of small commercial cargo vehicles making it a one stop shop for last mile cargo movement. Now there is an Ace for any kind of road and any kind of load."