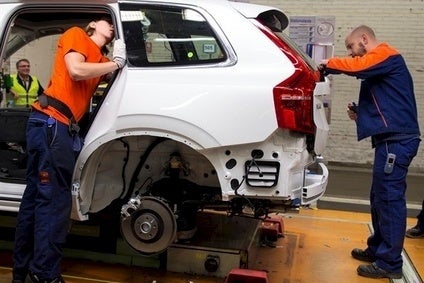 A spokesman for Volvo Cars has confirmed to just-auto that production of the S60 has just ended at Torslanda. The D segment sedan has for some years been made at both Ghent and the suburban Gothenburg facility but all production outside China is now in Belgium.
VCC corporate spokesman Stefan Elfström said the decision to stop making the S60 and S60 Cross Country at Torslanda is due to stronger than expected orders for the XC90. He also confirmed that the factory will continue to manufacture the V60 as Ghent does not build that model.
"As for the Polestar models, these will continue to get their special treatment at our Special Products unit in Torslanda, Gothenburg. For an S60 Polestar, this means it will be shipped from Ghent to Torslanda prior to delivery to the dealership," Elfström added.
A third shift at Torslanda commenced in May 2015. The addition of the night shift saw Volvo announcing that it planned to build 50,000 units of the XC90 this year at its Swedish manufacturing base. The suburban Gothenburg factory has a capacity of 300,000 vehicles per annum on three shifts. According to VCC's Stefan Elfström, the company is planning for XC90 build of "up to 80,000/year in the coming years".
VCC also manufactures the S60 in China but only in long-wheelbase L form. The Chengdu plant which has built this car since 2013 has a stated annual capacity of 120,000 units. The S60L has just gone on sale in the US for that market's 2016 model year, badged as the S60 Inscription. This is the first time that one of Volvo's Chinese plants has exported any model to North America.
Global production locations:
Torslanda (Sweden): V60 & Cross County, V70, XC70, S80, XC90
Ghent (Belgium): V40 & Cross Country, S60 & Cross Country, XC60
Daqing (China): XC90 Classic, S80L successor
Chengdu (China): S60L, XC60
Chongqing (China): S80L
Ridgeville, Berkeley County (USA): V431 S60 successor from late 2018 confirmed plus one other model to follow later: likely to be V426 XC60 successor