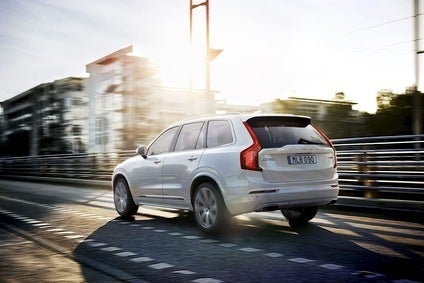 Volvo is likely to skip all-aluminium body shells in favour of carbon fibre, research and development head Peter Mertens revealed on the sidelines of the redesigned XC90 SUV launch near Stockholm.
Mertens said the redesign already has an aluminium bonnet (hood) and wings (fenders) and some of the material in the chassis but noted that, right now, Volvo sees boron steel – which it pioneered with a supplier – as the current answer to its desired mix of crash performance and light weight.
"We didn't think aluminium was necessary," Mertens said. "Before we get to to aluminium big time, we'll go to carbon fibre." Crash safety is possible – he cites the 300km/h race car crashes from which drivers walk away.
But he cautioned that making carbon fibre cars in high volumes is much harder than with steel.
And, in an apparent dig at BMW's considerable investment in the new material for its i8 and i3: "You don't have to buy a steel mill to have boron in cars."
Carbon fibre will be a more evolutionary approach at Volvo, he said.
Mertens is clearly proud of what's been achived with the new XC90 which is about 200kg lighter than most of its rivals and up to 350kg in the wider big SUV segment. The aerodynamic Cd is 0.30 – "that's [a] sedan number!" he exclaimed. The car is about 30mm lower, wider, 120mm longer with 80mm of that for the boot (trunk) which ranges from 300-litres to 704 litres. The rest has added second row seat room where each of three chairs folds and slides independently.
The new SPA architecture is very flexible and will enable Volvo to put more cars of different sizes on the same architecture. "Not many architectures can cope with different widths," he said.
New XC90 is just the start. After the 60 models are renewed, Mertens indicated we can expect a new V40 on the new CMA platform shared with Geely in about six years. Mertens said coming up with a platform that can host a lower performance, lower price Geely on the one hand and an upmarket Volvo on the other was "a bit of a stretch" but development to date "looks very promising".
Three cylinder engines are on the way. Mertens said doing an I3 when you have good I4s was a "no brainer" as they are easy to add on the same line and, turbocharged as all the Volvo units will be, performance is good.
Though a little guarded, Mertens said most vehicle development at Geely and Volvo is independent with the CMA project "hand in hand with Geely as much as it could be. Not so many other projects are planned."
He said Geely develops Geely cars and Volvo does its own – there is no Volvo "brain drain" to Geely but there are areas the Swedes help the Chinese and they in turn take an active observational role in some projects in Sweden.
Mertens also said the new XC90's "halo" up-to-400hp T8 petrol-electric, plug-in hybrid powertrain will be followed by other lower cost, less powerful versions while the T8 will go into other models. Some lower cost hybrids will be FWD only (T8 is petrol front, electric rear) but mechanical AWD would still be possible.
He acknowledged that Volvo underestimated demand for the V60 (diesel) PHEV and couldn't get enough batteries from LG Chem in Korea. He would not put numbers on expected XC90 demand but said he was expecting "quite a significant mix of hybrids" in the orders, particularly from the US and China. Motors, inverters, etc are from Siemens.
Mertens said Volvo research showed a plug-in range of 40km (25 miles) was about right for now but said new battery chemistry on the way and other developments would enhance that in the future but the automaker had to play cautious as it offered a seven-year battery warranty and consumer usage played a significant part in battery performance and life.
Volvo is focused on renewing its 40-60-90-S-V-VC '3×3' matrix and will only do new coupes and convertibles after that. "We love it, it has to be, we want it, but first things first," said Mertens.