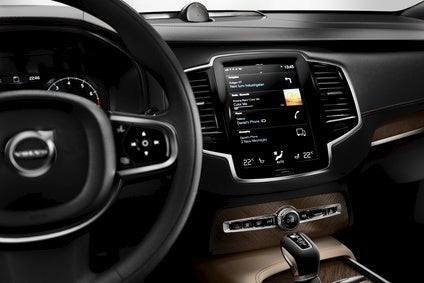 China is on course to become Volvo Car's largest market in 2014, pleasing both Chinese owner Geely and VCC's marketing, sales and customer service chief Alain Visser.
Visser, an industry veteran whose resume includes stints at General Motors Europe's Opel/Vauxhall unit, said in an interview on the sidelines of the redesigned XC90 static reveal that Chinese sales would hit around 80,000 units this year compared with around 60,000 in the previous largest market, the US. China growth in the first seven months of this year was around 40%, way ahead of the overall market.
The company already builds the S60L – a special long wheelbase version for China rivalling models from BMW and Audi – and will soon build the old XC90 as the XC Classic in a new Geely factory. The company also has an engine plant in China.
Visser said Volvo was looking at increased production capacity in China.
"If you plan to sell 200,000 units (as part of the 800k by 2020 master plan the company is working towards), you build where you sell."
The company is still building up its Chinese dealer network. It has around 300 now and is opening new outlets at the average of one every second or third week. Volvo is now focusing on 'tier five' markets – still cities of 2m to 4m.
As to the sales restrictions in the larger cities, Visser said there's "not a lot we can do". In the likes of Beijing the city decides sales and brands get allocations but, even with restrictions, there is growth potential for Volvo in an 18m unit market where its sales are still only pushing 80,000.
Visser said the Chinese market was changing from "bling bling" and "understatement was now cool". Environmental issues such as air quality in the big cities had "created a strong appreciation of quality of life" and the safe, coccooning environment of a Volvo was now valued in China.
The imported V40 was recently launched and the new XC90, to be sold alongside the 'old' Classic, is expected to take 20% of Chinese sales.
"All the range will go to China," Visser said. On the long wheelbase models, he said the company was looking at how far it should have two body styles but the trend for now was to have longer models. But not the XC90 – it's the right dimensions for China.
As for that 800,000 by 2020 target, Visser is expecting a record 470,000 units worldwide this year after 427,000 in 2013 – "we're ahead of track for 800k by 2020".