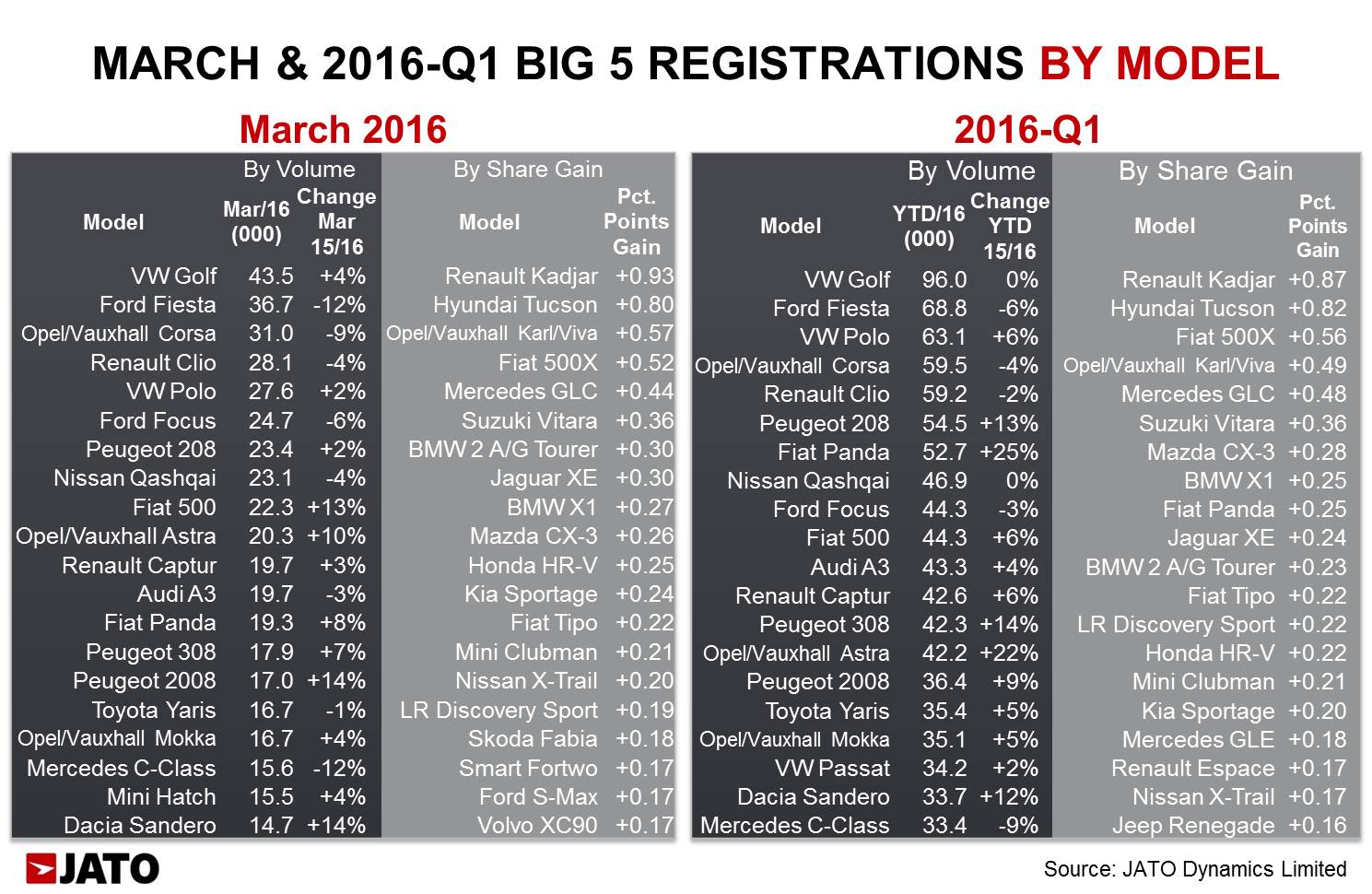 Analysis by JATO of new car sales figures for the five largest national markets in Europe – Germany, UK, Italy, France and Spain – shows that Q1 sales totalled 2.89m units, some 8% ahead of last year. JATO said that strong sales of SUVs continued, with SUVs seeing sales growth of 22% during March, and an overall 25% increase in Q1 of 2016.
Volkswagen remained the best-selling brand across the five major markets with 137,800 new cars sold, though registrations dipped 2%, losing ground on its competitors by 0.77 percentage points. The German brand's market share has now slipped for nine straight months, as the company continues to deal with the 'dieselgate' emissions issue. Volkswagen registrations dropped by 6% in Germany and 17% in Spain, and the brand lost market share in the UK and France. Only its subcompact and compact ranges posted positive numbers, JATO said. But JATO noted it was not the only big brand to lose ground, as second placed Ford also suffered from lower demand in Spain (-27%) and in the UK (-5%), taking its Big 5 total to 115,800 units, down by 2% from March 2015.
Opel/Vauxhall and Peugeot posted small gains, leaving Renault as the best improver among the top 5 best-selling brands. The French car maker was boosted by strong double-digit growth in Italy (+31%), France and the UK, as its SUV range continues to gain popularity (+65% in March).
The top 5 mainstream brands were followed by the three German premiums, which gained market share thanks mostly to their SUV registrations, and were collectively up by 37%. Sales of BMW's 'X' family grew 43%, accounting for almost 24% of its total registrations in March. That was higher than the comparative shares for Audi's Q-range (21.7%, up by 16%) and Mercedes' SUV family (20.8%, up by 61%).
The Volkswagen Golf topped the model ranking, with registrations rising 4% to 43,500 units, while its cumulative results since January remained stalled (+0%). Despite its low growth rate, Volkswagen's model did better than others at the top of the table, as Ford recorded a 12% drop on its Fiesta registrations, similar to the Opel/Vauxhall Corsa (-9%) and Renault Clio (-4%).
"With lower increases across the Big 5 markets, we have seen an overall slowdown in growth. However the situation continues to be positive, with an overall growth rate of 8% for Q1 in 2016. The shift from traditional segments to SUVs continues, as more carmakers invest in what has proved to be an impressively popular and high-growth segment," said JATO analyst Felipe Munoz.