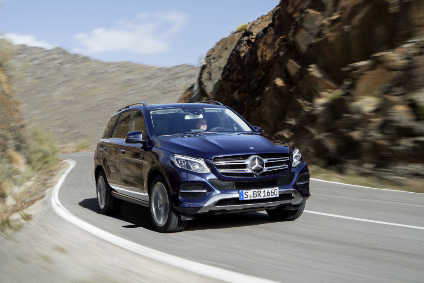 Mercedes-Benz delivered more than 156,000 vehicles globally in August – an increase of 11.8% on last year. It said the main contribution towards the increase came from the strong rise in unit sales of SUVs of approximately 40%.
The company said it enjoyed double-digit growth in the Asia-Pacific region and in the domestic market
Mercedes-Benz also said it has been setting new records month by month for three and a half years in a row. In the period of January to August, deliveries increased by 11.7% to 1,326,635 units – more than ever before in the first eight months of a year.
Ola Källenius, Daimler board member responsible for Mercedes-Benz's Cars unit said: " Mercedes-Benz has already delivered more than four million SUVs to customers worldwide. Their popularity is rising year on year. Thanks to their double-digit growth rate, the SUVs once again contributed significantly to the best-ever unit sales by Mercedes-Benz this August."
Sales in Europe, the biggest region for Mercedes-Benz, increased to a new high of 56,809 units in August (+12.9%). The proportion of vehicles sold in Germany was particularly high last month – some 23.530 units (+11/9%).
The markets of Great Britain, Italy, France, Spain and Belgium all saw double-digit growth rates for Mercedes cars.
Sales by Mercedes-Benz in the Asia-Pacific region reached the new high of 61,605 units in August (+20.1%), with 41,072 vehicles delivered to customers in China (+25.4%). Unit sales in China, Japan, South Korea, Australia and Taiwan were higher than ever before in the month of August.
A total of 33,033 units were sold in the NAFTA region last month (+1.4%) – a new record. In the USA, sales of 28,404 were posted.
E-Class lift
Mercedes said there was strong demand for the E-Class Saloon and Estate last month – around 17,000 units. This means. Mercedes said, that the "E-Class continues to be one of the best-selling Mercedes-Benz models, although the new Saloon is only now coming to the dealerships in its biggest market China and the new Estate has not yet arrived at the dealerships". Sales growth in August was particularly strong in Europe and the NAFTA region.
Sales of the SUVs from Mercedes-Benz reached a new high of 56,286 units in August (+39.3%). Especially popular were the GLA and GLC last month, the company said. More than four million customers worldwide have been opted for an SUV of Mercedes-Benz to date. Since 2011, unit sales of SUVs have more than doubled.
smart sales strong in China
Sales of the smart fortwo and forfour increased by 20.8% to 7,631 units in August. Mercedes said the urban microcar was "especially popular last month in China", where the new smart cabrio has also been delivered to customers since July. Unit sales of smart models nearly tripled in China compared with the prior-year month.