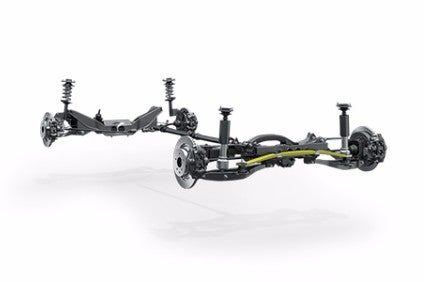 After using composite transverse leaf springs first in the XC90, Geely's Volvo Cars is using them on the S90 and V90 models. They're produced by Benteler-SGL using high-speed resin transfer moulding (RTM) and Henkel's Loctite MAX 2 two-component polyurethane composite matrix resin.
Henkel anticipates volume could reach around 200,000 per year by the end of 2017.
In the Volvos, the spring saves 4.5kg compared to steel coils, aids fuel efficiency and provides a smoother ride and improved NVH. There is also less trunk space intrusion compared with vertical coil spring suspension.
Henkel claims its resin delivers short cycle times needed for high volume production of composite parts. Low viscosity liquid rapidly fills the mould and impregnates the fibre preform without disturbing its positioning. The high cure rate also "substantially" speeds production.
Benteler business development chief Frank Fetscher said: "The composite leaf springs are another example of how a close cooperation between our partner Henkel and us in development of new processes and matrix resins — as well as adhesives and binders — can lead to the successful large-scale production of new composite concepts."