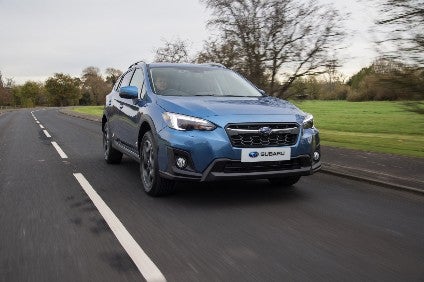 Some in the industry believe Subaru is not committed to Europe, but that is "absolutely not the case"", and illustrated by a push in the UK where the local importer has set itself out to become the fastest growing brand in 2018.
The rebuttal came from Torbjorn Lilrud, the new automotive development director at IM in the UK, part of a restructured management team, which will include a new managing director joining next month.
Lilrud, formerly with IM's Nordic operations, said the UK operation is going through a major internal restructure which includes separate management of its Subaru and Isuzu franchises.
He said: "There will be a complete focus on the brands and I can say that Subaru is in Europe to stay and have ambitious plans regarding our dealer network and new products which will be increasingly European in style."
Last year Subaru sold 2,665 cars in the UK, a market share of 0.1% and Lilrud said the plan was to push this north of 3,000 in 2018 making it the fastest growing brand.
Marketing manager Alexandra Lyons said IM plans to boost sales by "giving people a reason to buy Subaru. We have to get the message across about what's important and what's not."
An innovative TV advertisement running on the satellite and cable National Geographic TV channel has already generated a number of sales leads for the new XV, compact crossover currently being rolled out in the UK.
She added: "The message that we have to get across is that Subaru is all about adaptability and flexibility. Yes it can get you around town, but can it get you to the horse events, clay pigeon shoot or through a muddy track? Then yes it absolutely can."
Engineers and designers have taken this on board with the new XV, a model first launched in 2012. The latest interior is more upmarket but remains functional. The engineering team undertook field research with XV customers to see what they used their vehicles for day to day.
One particular example is field research in Portland, on the northern side of the west coast of America. It is close to beaches, within a two hour drive of Mount Hood, and outdoor activities are a big part of life there. People mount bikes, canoes and snowboards on their XVs to go out to the mountains or beaches regularly. Driving on rough roads to rivers, snow covered hills to ski slopes and unpaved roads to campsites is the norm. This kind of capability is a central aspect of the XV.
Engineers also noted a significant amount of urban use by customers – driving around and to town centres for work and play. XV has been tailored to perform with improved visibility, refinement, compact dimensions and driver assistance technology to make driving easier in urban areas.
XV is the second Subaru in the UK to be launched on the Subaru Global Platform which will form the foundation for each future new model, including adaptability for all powertrains, including alternative fuel.
Powertrains for the UK are the established Subaru 1.6 and two litre boxer, flat four engines mated to CVT automatic transmissions.