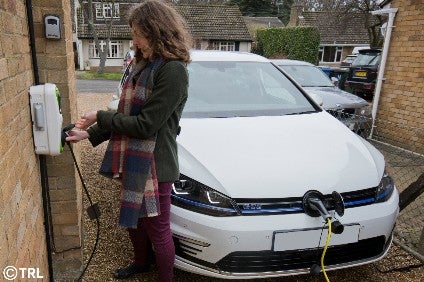 A new study has found that only half of British car buyers would choose an electrified car.
The Transport Research Laboratory (TRL) found 50% of mainstream consumers likely would choose a PHEV as a main or second household car, or a BEV as a second car, in the next five years.
Half of mainstream consumers would consider a BEV as a main car if its range increased to 200 miles; increasing to 90% of mainstream consumers if the range was 300 miles.
Mainstream consumer adoption of BEVs could be encouraged through provision of rapid charging infrastructure every 20 miles on motorways and A-roads; providing rapid chargers with 150kW charging rates was also likely to increase adoption.
Among a range of potential incentives to support electric vehicle adoption, those with direct financial impacts were rated highest in importance by participants. A grant towards purchase price was rated most important.
Ironically, the UK government has recently removed some of these. The Society of Motor Manufacturers and Traders (SMMT) reported earlier this month that, while sales of alternatively fuelled vehicles were up 12.7% in April, zero emission-capable PHEVs fell back by 34.4% and 20.4% year-to-date – evidence, the SMMT said, of the 'consequences of prematurely removing upfront purchase incentives before the market is ready'. The subsidy for pure EVs, or BEVs, has also been reduced by GBP1,000.
TRL claims its Consumers, Vehicles and Energy Integration (CVEI) study, carried out for the Energy Technologies Institute (ETI), is a world first. Results reveal 'tipping points' for when mainstream consumers will be likely to adopt both fully electric vehicles and plug-in hybrid electric vehicles; provides compelling evidence for how the increased electricity demand from these vehicles can be managed; and reviews how the speed of transition could be accelerated with OEMs, governments and consumer forces working together.
TRL's head of ULEV consumer research, and technical Lead for the CVEI trials, George Beard, said: "The trials are the first and largest of their kind. We provided 447 mainstream consumers with real-world experience of using both Battery Electric Vehicles (BEVs) and Plug-in Hybrid Electric Vehicles (PHEVs) for their day-to-day journey needs."
The BBC reported the cars used were an electric VW e-Golf hatchback, a plug-in hybrid Golf GTE hatchback and a standard internal combustion engine Golf hatchback GT Edition. Each participant drove each car for four days.
Beard added: "The 'Consumer Uptake Trial' examined the barriers and motivators which influence mainstream consumer adoption of BEVs and PHEVs. We provided consumers with direct back-to-back experience of using a pure electric (BEV), a plug-in hybrid (PHEV) and an equivalent conventional petrol engine car. By providing this real-world experience, we were able to gather more representative views of mainstream consumers about the extent to which electric vehicles serve their needs."
In-depth data on mainstream consumers' attitudes, perceptions and choices were gathered from surveys, and detailed information was gathered from vehicles and charge points for 584,000 miles of journeys and 15,700 charge events, covering both home and public locations.
TRL claimed the results have produced the most comprehensive picture of the future of UK road transport in the electric powered era, and has defined the 'tipping-point' in terms of consumer choice.
Neale Kinnear, TRL's head of behavioural science, said: "The need for cleaner, more efficient modes of travel is increasingly required to meet objectives such as the Road to Zero. However, the pace of this change will ultimately be dictated by consumer demand.
"With this ground-breaking CVEI project, TRL and its partners are providing vital evidence proving the mass market is willing to make the switch to electric vehicles, within particular parameters. The detailed findings will help inform UK and European policy and industry, including what is required by the energy sector to enable it to successfully contend with the resultant significant increase in electricity demand."
Hannah Al-Katib, CVEI project manager, added: "This innovative project has required the expertise of a wide range of partners in order to deliver findings that will have real-world impact. As well as the data generated from this project, the unique challenges of delivering these ambitious and complex trials has provided insights into the types of challenges we face in transitioning to a future of zero emission vehicles."
The CVEI project was commissioned by the Energy Technologies Institute and led by TRL. Other project partners were Baringa, Element Energy, Cenex, EV Connect, The Behavioural Insights Team, EDF Energy and Shell.