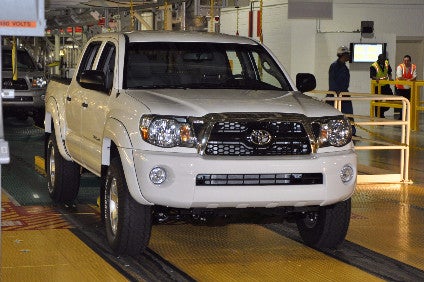 Toyota has temporarily halted production at its San Antonio pickup plant due to storm damage.
The plant sustained roof damage that allowed water to enter the plant, according to Toyota.
Managers are concerned that the water could be in electrical systems and are checking them. Local media reported that a section of the roof appeared to cave in. The plant also had random power outages because of water leaks.
The Toyota plant at San Antonio builds full-size pickups and employs around 3,200 workers.
Parts of south Texas were hit with severe storms through Tuesday night and early Wednesday. More storms are expected in the region later this week.
The plant won't resume production until Friday at the earliest, although some employees will resume work in non-production areas, the company said in a statement.
"We are aware of and are preparing for the projected weather so we can minimise impact," the statement said.
Full-size pickups have been strong sellers in the US light vehicle market in recent years, though there are some signs that demand may be about to plateau.