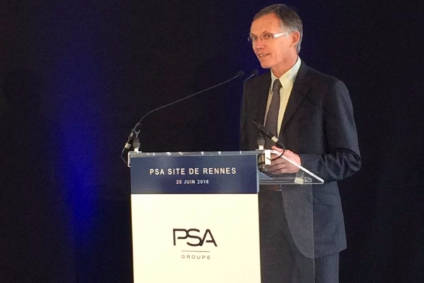 Stellantis says any decsion whether to place some future electric vehicle investment in the UK or Europe is "under review" as uncertainty swirls around its plans for Britain.
The newly-formed automaker's comments come as it raises doubts surrounding future investment at the Ellesmere Port Vauxhall plant, following the British government's plan to bring forward a ban on the sale of new internal combustion engines cars and vans from 2040 to 2030.
The Vauxhall car plant at Ellesmere Port in North West England manufactures the current Astra. The next generation Astra model for 2022 – on a whole new platform, shared with PSA models – has been confirmed to be built at Ruesselsheim, with PSA suggesting at various times over the past year that it wants Ellesmere Port to be the second European plant making it, but that much depends on the terms of the UK's exit from the EU. A further problem is a long-term decline in the European market for C-segment hatchbacks such as the Astra, meaning that plant volumes for such models are much lower than they would have been twenty years ago.
The uncertainty for the plant is framed against the backdrop of the Free Trade Agreement (FTA) recently struck between the UK and the European Union (EU), but British labour bodies may be concerned at Stellantis raising questions as to where it might put future electric vehicle investment.
The FTA was inked on Christmas Eve, 2020 and secures what many in manufacturing have urged – namely zero tariffs and no quotas – as the UK leaves the EU Customs Union and Single Market but the newly-formed automaker notes it is still mulling future plans for Britain.
"We are relieved by the fact there is a Brexit deal," said Stellantis CEO, Carlos Tavares at a virtual briefing in Paris. "It would have been dramatic had we not had this kind of deal. We have been keeping cool-headed during the Brexit negotiations, hoping at the end of the day good sense would prevail and I believe this is what has happened.
"This deal is putting different milestones. All of those rules of origin are moving in the direction of making sure products sold in the UK or Continental Europe are made inside of the UK plus Continental Europe with a certain number of localisation rate and putting the value creation inside of these two areas, UK plus Continental Europe.
"I think it makes sense and is very aligned with Stellantis ' strategy, which is about engineering, investing and manufacturing the electric components in Europe. Electric motors, electrified, automatic transmissions, battery packs, battery cells. We have invested in all of this and in the time windows that were proposed by this deal, we are able to come up with this sourcing.
"If we are able to comply with those rules of origin – and I believe we can – where should we be putting investments based on the places where those markets are going to be sold? This is something which is still under review. Should we put some EV-related investments in the UK or should we put those EV-related investments in Continental Europe? They all contribute to respecting the same rule of origin. So both could work. But of course, the biggest market is on the Continental European side.
"So, if you look at it from a pure logistic perspective, or from a paperwork perspective, perhaps it is better to put it in Continental Europe, perhaps not. It depends also on the UK government's willingness to protect some kind of automotive industry in its own country, which is about their strategy on the automotive manufacturing field. So we are now reviewing those different scenarios."
Despite his comments, the new Stellantis chief insisted the company did "not forget" the Vauxhall brand in Britain, which he maintained was "warm to the hearts of UK consumers."
"So there is something there we need to strategically think," noted Tavares. "We did not make our decision yet, but we are on the way and will most probably be able to make a decision within a few weeks."