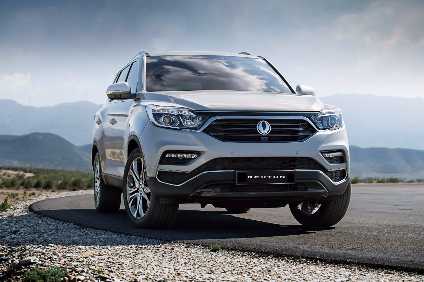 Mahindra-owned SUV specialist SsangYong is shooting for annual capacity of 250,000 units a year by 2022, some 60% higher than its 2016 level of global sales.
The brand is planning to further renew its model range and build on the success of its compact SUV Tivoli range (introduced in 2015 and by far the best selling vehicle for the brand; 23,000 Tivoli units exported in 2016) to push into export markets.
In 2016, the company also achieved its highest annual sales since 2002 at 155,844 units, up 7.7% compared to 2015. It is the second time that the company's yearly sales surpassed 150,000 units. SsangYong's best year is 2002 when the company sold a total of 160,010 units. The Tivoli model led this significant growth by selling 85,821 vehicles in 2016, up 34.7% compared to 2015.
In 2016 exports jumped 15% to 52,000 units, with shipments growing to Iran and growing sales in Europe and Central and South America. The company is aiming for 15% growth of exports to 60,000 units in 2017.
Emerging markets are a new growth focus for SsangYong since the company expanded its market from Europe and Central and South America to new emerging markets, by entering Southeast Asia, and resuming shipping to Russia. The Middle East including Iran (8,000 SsangYong vehicles in 2016) is also emerging as a major export market.
"South America and the Middle East is growing very fast," said Dan Rim, SsangYong's export director, speaking to just-auto at its Pyeongtaek manufacturing base outside Seoul. The company is planning further market diversification with localised CKD assembly in some parts of the world, but shipments from Korea to places covered by free trade agreements with South Korea.
"If there is no FTA with Korea and there are high import barriers, our strategy is to localise and avoid import tariffs that are typically 25-35% but can be higher," Rim said. "We will look into wherever we need to be. To be competitive we need to localise in some regions of the world."
SsangYong is planning to make vehicles in Saudi Arabia via a joint venture and there is a feasibility study under way to examine an assembly plant in China (which could ultimately grow to make 150,000 units a year).
The company is investigating market entry in North America "in two years', according to Rim. "It's a big market but there are lots of tough regulations in emissions and safety," Rim said. "It will take a lot of work to do, but we need to diversify our sales and mitigate risks, make sales in markets all around the world."
The product line-up is being enhanced by the new Y400 Rexton flagship model this year (start of production in July). A new pickup, codenamed Q200, to replace the Musso, is planned to launch in 2018, with a new Korando (codenamed C300) planned for 2019.