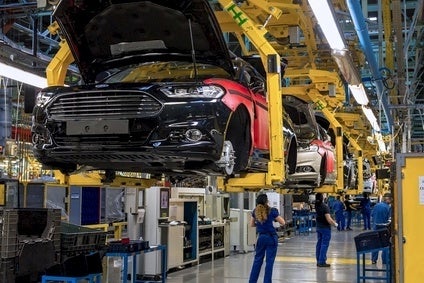 Ford says its Valencia 'mega-plant' is on track to build 400,000 vehicles in 2015, some 40% ahead of 2014's total.
Ford is losing money in Europe and has acted to reduce cost by reconfiguring and consolidating its manufacturing footprint. It has closed its Genk, Belgium, assembly plant and moved that production to its flexible Valencia plant – which now makes six models.
Ford says it has invested EUR2.3bn since 2011 to develop what it claims is one of the world's most advanced, flexible and productive auto plants.
The company says a new assembly line process now manages the increased complexity of producing more models and derivatives than any Ford facility in Europe. The Valencia plant can manage a much higher number of parts required for building the new models recently added and can handle a much higher quantity of parts on its line.
The plant is now producing six Ford models and multiple body styles and derivatives, on a single assembly line. The start of volume production of the S-MAX, Galaxy and new Ford Mondeo Vignale, add to existing production of Ford Mondeo, Kuga, Transit Connect and Tourneo Connect.
The plant is on track to build 400,000 units in 2015 – a 40% increase over last year. Ford says it will have the capacity to potentially build up to 450,000 vehicles a year in the future.
"Our Valencia operation has become truly state of the industry in terms of flexibility, productivity and the innovation in manufacturing quality," said Barb Samardzich chief operating officer, Ford of Europe. "It's incredible and virtually unprecedented to see a luxurious Ford Mondeo Vignale going down the same line with a Kuga SUV and Transit Connect commercial vehicle."