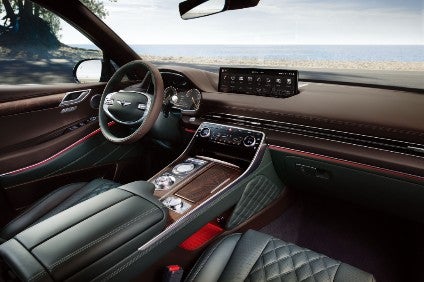 Domestic sales by South Korea's five largest automakers plunged by over 15% to 99,602 units in January 2020 from 117,464 units in the same month of last year, according to preliminary data released individually by the companies.
The data did not include sales by low volume commercial vehicle manufacturers, including Tata-Daewoo and Daewoo Bus Corporation, as well as sales of imported vehicles which will be covered in a separate report when the data is released later in the month. Together, these accounted for 14% of total vehicle sales in the country last year.
Sales last month were held back by the early lunar new year holidays which this year fell in January rather than February, as in 2019.
Hyundai Motor led the market lower with a 21% decline to 47,591 units with deliveries to dealers affected by far fewer working days at its domestic assembly plants.
Kia reported a decline of just 2.5% to 37,050 units last month while GM Korea said its sales were slightly higher at 5,101 units helped evidently by higher inventories going into the fourth week of January.
Renault-Samsung sales were 17% lower at 4,303 units, ahead of a major product overhaul scheduled to start in March, while struggling Ssangyong reported a 37% decline to 5,557 units.
While a strong rebound would normally be expected in February, particularly after the sharp sales decline by Hyundai, news has now emerged vehicle production in South Korea is being disrupted by component shortages at suppliers in China following the recent coronavirus outbreak.
Global sales by the country's 'big-five' automakers, including vehicles produced overseas by Hyundai and Kia, fell by 6.0% to 553,558 units in January from 589,082 units a year earlier – reflecting weaker domestic and overseas sales.
Overseas sales, including exports and vehicles produced overseas by Hyundai and Kia, fell by 3.7% to 453,956 units in last month from 471,618 units a year earlier due to continued weak demand in key developing markets such as China and India.
This was offset in part by strong demand in North America, Latin America and selected markets in the Middle East.
Hyundai Motor's global vehicle sales fell by 3.6% to 304,076 units in January from 315,394 units in the same month of last year, mainly reflecting a sharp decline in domestic deliveries due to the lunar new year holidays falling in January this year, significantly reducing the number of working days at its plants compared with last year.
Hyundai's domestic sales plunged by over 21% to 47,591 units last month from 60,440 units a year earlier with the company pointing out its hybrid models "drew keen interest from customers".
Sales of the recently redesigned Sonata hybrid increased more than four fold year on year while deliveries of the Grandeur hybrid jumped by more than 40%.
Pre-orders for the Genesis GV80 luxury SUV reached almost 20,000 units in the 10 working days since its launch.
Overseas sales were up slightly in January at 256,485 units from 254,954 units a year earlier, with "solid demand in North America, Latin America, Asia and the Middle East regions helping to support shipments amid shrinking industry-wide demand worldwide".
Sales in China have come under significant pressure due to the lunar new year holidays and also because of disruption caused by the coronavirus in the country.
Hyundai announced it was suspending operations at a Genesis brand facility in Ulsan in South Korea due to shortages of components from Chinese suppliers, with other shut-downs also being discussed with unions.
This followed the suspension of operations at an SUV factory in China at the weekend.
Kia Motors' global sales rose by 2.5% to 215,112 vehicles in January from 209,870 units a year earlier, reflecting stronger overseas sales.
Domestic sales fell by 2.5% to 37,050 units last month from 38,010 units a year earlier, with deliveries affected by lunar new year holidays.
Sales were supported by higher inventory going into the fourth quarter of January and strong demand for the new Seltos SUV and the K5 sedan.
The company plans to strengthen its SUV line up further in March with the launch of the redesigned Sorento SUV.
Last month's moderate decline in domestic sales was more than offset by a 3.6% increase in overseas sales to 178,062 vehicles from 171,860 units a year earlier, helped by the global roll-out of new SUVs such as the redesigned Soul, Telluride and Seltos.
Like Hyundai, Kia has been forced to cut output at several production lines in South Korea since the beginning of February due to component shortages from Chinese suppliers.
GM Korea's global sales plunged by over 47% to 20,484 vehicles in January from 38,705 units a year earlier, reflecting sharply lower exports.
Domestic sales were slightly higher at 5,101 units in January compared with 5,053 a year earlier, helped by higher demand for the Spark small car and the Colorado pickup truck while exports plunged by 54% to 15,383 units from 33,652 units previously.
At the end of January the company launched local production of the Trailblazer SUV, with shipments starting in early February. Exports to markets including North America will also begin in February, according to local reports.
Renault-Samsung, 80%-owned by Renault, saw its global sales plunge by over 54% to 6,233 vehicles in January from 13,693 units a year earlier due to weaker domestic and export sales.
Domestic sales fell by 17% to 4,303 units last month from 5,174 a year ago, reflecting an ageing product line which is struggling to compete with a strong wave of new products from Hyundai and Kia over the last year.
In December the company said it aimed to lift domestic sales to over 100,000 units in 2020 from 76,879 units in 2019 with the launch of three completely new and three upgraded models in the first half of the year.
The three new models include the XM3 compact SUV, scheduled to be launched in the first quarter, the second-generation QM3 SUV and the new Zoe battery powered electric vehicle – both due out in the second quarter.
The models to be revised include the SM6 sedan, QM6 SUV and Master van.
Exports plunged by 77% to 1,930 units in January from 8,519 units a year earlier following the discontinuation last year of export orders for the Rogue SUV by Nissan Motor of Japan.
Renault-Samsung has been forced to look elsewhere to maintain production volumes at its plant in Busan.
The company began producing the Renault Twizy small electric vehicle in October with an annual domestic sales target of 5,000-15,000 units with the model also being 're-exported' to Europe.
Ssangyong Motor, majority-owned by India's Mahindra & Mahindra, reported a 31% drop in global sales to 7,656 units in January from 10,988 units a year earlier, mainly reflecting a 37% decline in domestic sales to 5,557 units from 8,787 a year earlier.
Exports declined 4.8% to 2,096 units from 2,201 units previously.
In late January Mahindra & Mahindra proposed a KRW500bn (US$428m) recovery plan to creditor banks including the state owned Korea Development Bank designed to return its loss making subsidiary to profitability by 2022.
Reports at the end of last week suggested Ssangyong was planning to suspend operations at its Pyeongtaek assembly plant between 4 and 12 February due to the shutdown of suppliers in China.