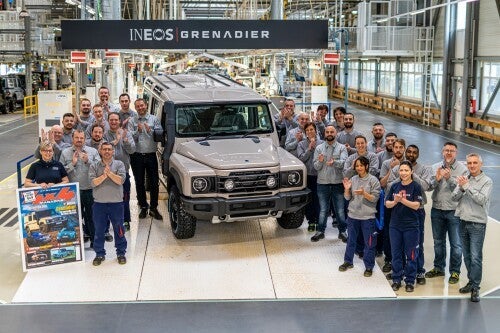 Sales of imported light passenger vehicles in South Korea fell 9% to 20,910 units in April 2023 from 23,070 a year earlier, according to the Korea Automobile Importers & Distributors Association (KAIDA).
The data did not include some non affiliated brands, including Tesla.
The decline mainly reflected falling sales by leading German automakers Mercedes-Benz and BMW, amid rising competition from domestic manufacturers which enjoyed an 8% sales rise to 128,853 units combined last month. Leading Japanese brands including Toyota and Lexus also made strong gains from depressed year earlier levels.
In the first four months of the year, import sales were 3% lower at 82,594 units from 84,802 in the same period of 2022 with German owned brands still accounting for 74% of the total or 61,197 units. BMW continued to lead this segment in this period despite sales falling by 3% to 23,970 units while Mini sales plunged 28% to 2,598 units.
Mercedes-Benz is struggling to regain the significant ground it lost last year with four month sales falling 19% to 21,128 units despite the recent launch of the EQB SUV and the EQE and EQS BEV sedans.
Volkswagen sales plunged 56% to 1,840 units while Audi sales surged 57% to 7,387 units and Porsche sales were up 24% at 4,112 units.
Local distributor Volkswagen Group Korea launched a number of new and upgraded models last year, including the Audi Q4 e-tron and VW ID.4.
Lexus sales more than doubled to 4,321 units year to date while Toyota sales rose 36% to 2,383 units helped by the launch of the RAV4 plug in hybrid vehicle (PHEV) in March.
Earlier this year the Japanese automaker said it planned to launch eight new models under the two brands this year, including the Lexus RZ450e and Toyota bZ4X battery-powered SUVs, the Prius PHEVs and the Highlander, Crown and Alphard hybrid electric vehicles (HEVs).
Volvo sales increased 19% to 5,589 year to date, helped by the recent launch of the C40 Recharge, the first of seven BEVs it plans to launch by 2030. Last month the company said it would launch the EX9 electric SUV in 2023 and announced plans to invest US$85m to strengthen its sales and aftersales network in the country.
Separate reports showed Tesla sales fell by around 50% to 1,303 units in the first quarter of 2023 after dropping 18% to 14,571 units last year, reflecting a lack of new models and rising competition from Hyundai-Kia and luxury brands such as Mercedes-Benz and BMW.
The UK's Ineos Automotive announced plans to enter the market later this year with the launch of the Grenadier pickup truck which it displayed at this year's Seoul Motor Show.