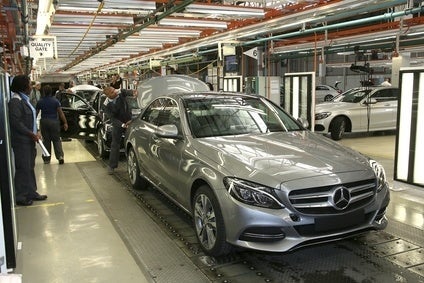 Daimler's South African Mercedes-Benz plant in East London, Eastern Cape province, has built its one millionth passenger car – a white, right hand drive, C-Class sedan.
The latest generation has been produced since May 2014 in East London – one of four factories world wide making the model line – and this is the fourth generation to be built in South Africa. Bremen, Germany, is the lead plant and the others are Tuscaloosa, Alabama and Beijing Benz.
M-B production and supply chief Markus Schäfer said: "One million cars made at the East London plant illustrate the remarkable development this location has seen over the years."
Daimler said the plant had been recognised six times by JD Power for manufacturing excellence, including a platinum award for manufacturing quality.
Production began in 1958 when independent Car Distributors Assembly (CDA) became contract assembler of the W121 series for the local Mercedes importer. Daimler-Benz bought 50.1% of the company's shares in 1984 and Mercedes-Benz South Africa became a wholly-owned Daimler subsidiary in 1998.
The plant has built 24 passenger car model lines with many exported. It was initially right hand drive versions only but has added LHD output as needed in recent years. Today's workforce is around 3,000.