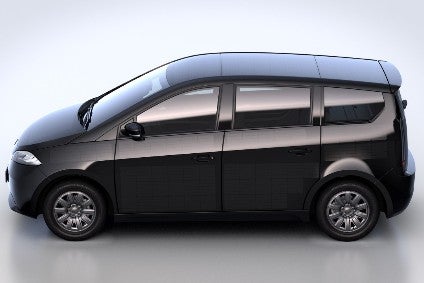 German solar car start-up Sono Motors says it has agreed a deal with NEVS which will see its Sion car manufactured in Sweden at the former Saab factory in Trollhättan.
Sono Motors GmbH, which is based in Munich, developed the Sion, a small electric crossover which is covered in 330 solar cells. These are fixed to the tailgate, sides, bonnet and roof of the tall, 4,110mm long five-door vehicle. Each polycarbonate panel is attached to an aluminium base structure.
Last year, the company said it would begin manufacturing the Sion during the second half of 2019 but until now had been coy on where this would take place.
The indicative base price in Germany had been announced as 16,000 euro excluding the battery lease. In August 2018, Sono Motors stated that it had received 5,000 'reservations' for the car. Then in March, Sono announced the production spec model, which is larger than the prototype. Its price is 25,500 euro. As at 17 April, Sono Motors is claiming close to 10,000 'preorders' [sic] on its website.
As well as having its batteries directly charged by the sun, the Sion can also be plugged in. The maximum range is claimed to be 250km, or up to 34km on energy harvested from the sun. Top speed is limited to 140km/h. The battery pack's storage capacity is 35kWh and the motor's outputs are 120kW and 290km.
According to a statement from NEVS, it will make the Sion at the rate of 43,000 cars annually with production to last for eight years. Energy used in the manufacturing process will be renewable and there will be no need for a stamping operation or a paint shop due to the black polymer panels. A layout of the plant can be seen here.
Sono Motors' founders insist that it is "a movement, not a company" and the history of raising funds via crowdsourcing underlines that.