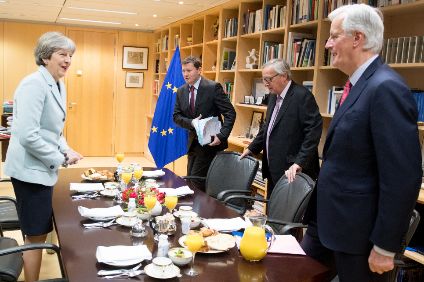 An 'outline agreement' on the terms of the UK's exit from the EU in March next year has been described by the SMMT as a 'positive step'. The agreement was rubber stamped by the UK government's cabinet yesterday evening (15 November) amid reports of significant opposition from some cabinet ministers (and the Brexit Secretary, Dominic Raab, has resigned in protest today).
Under the outline deal, a transition period to the end of 2020 would mean that all existing EU 'regulatory, budgetary, supervisory, judiciary and enforcement instruments and structures' will continue to apply within the UK, including rulings made in the Court of Justice of the EU. 'Frictionless trade' between the UK and EU would continue as now, the UK staying within the EU customs union.
Mike Hawes, SMMT Chief Executive, said in a statement: "For the automotive industry, Brexit is about damage limitation. The outline agreement is a positive step in avoiding the devastating consequences of 'no-deal' and securing a transition period.
"It is, however, only a first step and business seeks certainty and ambition when it comes to securing a competitive future. Truly frictionless trade is the only way to ensure the industry's future success, and this should be the objective for all parties as we move into negotiating the permanent UK-EU relationship."
The SMMT has long lobbied for the continuation of frictionless UK-EU trade to protect pan-European supply chains that depend on just-in-time manufacturing processes. However, UK companies have recently warned that a disorderly or 'no-deal' Brexit could be particularly damaging.
Although the UK and EU negotiating teams have agreed an outline agreement or 'deal' for the terms of the UK's EU departure, it still has to be ratified by the UK's parliament and also the other 27 EU member states. In terms of trade it only covers the terms of the 21-month 'transition' period to the end of 2020, with more negotiations needed in the meantime over a comprehensive final agreement that should set permanent trade arrangements between the UK and EU (quite possibly a Canada-style free trade agreement).
The auto industry in the UK may feel it has some immediate breathing space today, but considerable political hurdles remain, not least in getting the UK parliament's approval. Ministerial resignations (most notably Brexit Secretary Dominic Raab) hint at the degree of political division that the UK's exit from the EU continues to generate. Prime minister Theresa May's government is also a minority administration and there is every possibility that parliamentary approval for the outline agreement will not be achieved, which then raises the probability of a 'no-deal' Brexit.
Another general election or a referendum on a proposed deal are also possibilities being discussed by UK political commentators today.