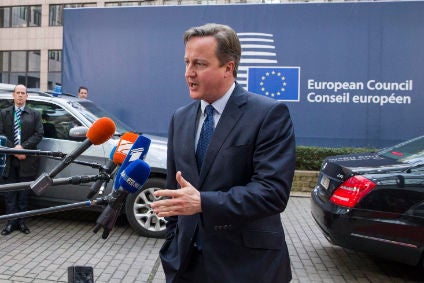 The UK automotive industry has restated its view that staying in the European Union is best for its business and best for British jobs, just days ahead of the national referendum on the UK's continued membership of the EU.
The Society of Motor Manufacturers and Traders (SMMT), which represents the UK automotive industry, said it "wants to ensure there is absolute clarity on the sector's position given recent misrepresentations in the Europe debate".
In a statement, the trade body also included comments from leading industry figures supporting the UK's continued membership of the EU trading bloc.
It said the auto sector is a huge employer in the UK, supporting 800,000 jobs across the country and contributing GBP15.5bn annually to the economy
It points out the industry is export led with around 80% of vehicles heading abroad and over half of those (57.5%) destined for the rest of the EU. According to the SMMT, unrestricted access to the world's largest single market, the negotiating strength of the EU to secure international trade deals, the ability to shape technical regulations and free movement of labour all provide significant benefits to UK businesses. "This is why SMMT member companies large and small are overwhelmingly in favour of remaining in the EU," SMMT maintains.
Before the start of the campaigning period, SMMT commissioned a survey of its members – which includes car and commercial vehicle manufacturers, parts suppliers, aftermarket companies and other companies large and small. Some 77% firms surveyed said remaining in Europe would be the best for their business, with only a minority 9% saying leaving would be best. Notably no large company said that an exit would be in their business' best interests, SMMT says.
Mike Hawes, SMMT Chief Executive, said: "UK Automotive is globally competitive, securing record levels of investment, creating tens of thousands of jobs annually and exporting to over 100 countries. We want this success to continue rather than jeopardise it by increasing costs, making our trading relationships uncertain and creating new barriers to our single biggest and most important market, Europe. Remaining will allow the UK to retain the influence on which the unique and successful UK automotive sector depends."
The SMMT said there should be no ambiguity about the sector's views ahead of such a critical vote and quoted senior figures from a wide range of UK-based automotive companies to reinforce the message:
Ken Gregor, Chief Financial Officer of Jaguar Land Rover, said: "Remaining in the EU – our largest market – will increase Jaguar Land Rover's chances to grow, create jobs and attract investment in future technologies. Our European supply chain has been fundamental in helping us to meet customer expectations worldwide and achieve sustainable, profitable growth."
Tony Walker, Deputy Managing Director, Toyota Motor Manufacturing UK, said, "After considered review, we believe that continued membership of the European Union is best for our business and for our competitiveness in the longer term."
Ian Robertson, Member of the Board of Management, BMW AG, said: "We firmly believe Britain would be better off if it remained an active and influential member of the EU, shaping European regulations which will continue to impact the UK whatever the decision on Thursday."
Rory Harvey, Managing Director and Chairman of Vauxhall, said, "We are part of a fully integrated European company where we benefit from the free movement of goods and people. We believe not to be part of the EU would be undesirable for our business and the sector as a whole."
Nigel Stein, Chief Executive, GKN PLC, said: "We see a real benefit in remaining in the EU. A vote to leave will not mean manufacturing investment disappears overnight, but over time a UK outside the EU will be disadvantaged and will lose the investment it needs to maintain our industries."
Gamil Magal, Group Chief Executive, Magal Engineering Limited, a medium-sized Tier 1 components supplier, said: "Full unhindered access to the European single market is essential for Magal Engineering's UK operations and growth."
Last week, European Commission (EC) president, Jean-Claude Juncker, conceded that the EU's administrative arm – the European Commission – has made "major mistakes" in the past, but that Britain would be best advised not to leave.
One major area of concern for car companies manufacturing in the UK is future trading relationships between Britain and the EU in the event of a Leave vote. There is considerable uncertainty over the nature of a negotiated 'free trade' deal and the timescale for its negotiation, as well as the political landscape under which negotiations between the UK and Brussels would take place. If a free trade deal between a non-EU UK and the EU could not be done, UK car exports to the EU could potentially be subject to a 10% common external tariff under WTO rules.
SMMT survey of its members' views on Europe, published March 2016