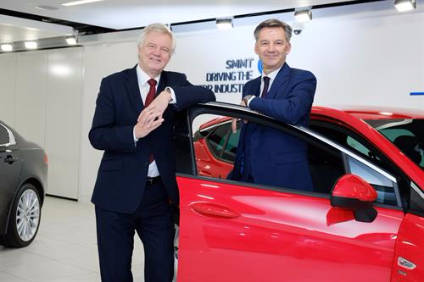 The SMMT has hosted a meeting with UK government ministers and leaders of UK automotive manufacturing operations to discuss the future for the sector following Brexit.
However, few details of the discussions have emerged.
In a statement, the SMMT said that David Davis, Secretary of State for Exiting the European Union, and DFT and BEIS ministers hosted a "roundtable with SMMT and automotive leaders".
The event took place at SMMT's headquarters in London and was also attended by John Hayes, Minster of State, Department for Transport and Nick Hurd, Minister of State, Department for Business, Energy and Industrial Strategy.
Mike Hawes, SMMT Chief Executive, was present and meeting topics were described as "wide ranging". Top of the list were the conditions necessary for the automotive sector to thrive and the priorities for the UK automotive sector when the country leaves the EU. Key to any future success will be close collaboration between the industry and government, a point reinforced by all parties, the SMMT said.
Mike Hawes, SMMT Chief Executive, highlighted the importance of free and unfettered trade with other European countries. He said: "Today's discussions were a good opportunity to meet with government to reinforce the success and importance of UK Automotive, and to highlight the specific priorities for our sector when leaving the European Union.
"Being part of the single market has helped make the UK automotive sector amongst the most competitive in the world and a critical part of the UK economy. It is essential that we maintain those benefits and we will work with government and our partners in Europe to ensure the global success of our sector continues in the future."
The UK's negotiations with the EU to leave the trade bloc are planned to start by March 2017 and are on a two-year completion schedule. However, post-Brexit trade arrangements between the UK and EU are widely thought likely to take longer and could be subject to transitional arrangements after the formal EU exit in 2019, according to recent comments from the UK Chancellor, Philip Hammond.
Event attendees – government
David Davis, Secretary of State, Department for Exiting the European Union
John Hayes, Minister of State, Department for Transport
Nick Hurd, Minister of State, Department for Business, Energy and Industrial Strategy
William Atkinson, Engagement and Strategy Team, Department for Exiting the European Union
Hannah Riches, Market Access Team, Automotive Lead, Department for Exiting the European Union
Ian Broadhurst, Automotive Unit, Department for Business, Energy and Industrial Strategy
Event attendees – industry
Mike Hawes, Chief Executive, SMMT
James Stephens, Global Head of Government Affairs, Aston Martin
Mark Dorsett, UK Country Director, Caterpillar
Andrew McCall, European Board VP, Ford
Chris Saunders, Director of Group External Relations, GKN
Rory Harvey, Chairman and MD, GM, Vauxhall UK
Ian Howells, Senior Vice President, Honda Motor Group
Adrian Hallmark, Director of Strategy, Jaguar Land Rover
Philip Bouverat, Director of Global External Affairs, JCB
Kevin Miller, Director of Business Strategy, McLaren
Colin Lawther, Senior Vice President, Manufacturing, Purchasing & Supply Chain Management, Nissan
Tony Walker, Deputy Managing Director, Toyota Motor Manufacturing UK and Managing Director, Toyota Motor Europe, London, Toyota
Learn more about Brexit and its automotive industry implications