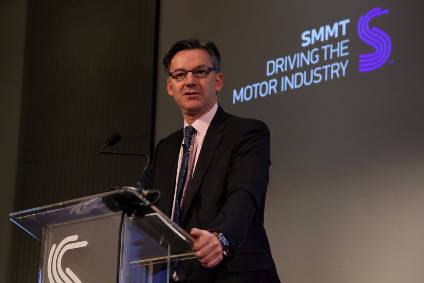 Britain's automotive trade association, SMMT (Society of Motor Traders and Manufacturers) says it is "hopeful" yesterday's (6 March) confirmation by PSA Group it was to purchase General Motors ' Opel/Vauxhall business for US$2.2bn will prove fruitful, with the French automaker hinting at supply chain opportunities in the event of a 'hard' Brexit.
The takeover has exercised unions in particular, with those in Germany and the UK voicing concern at any potential for rationalisation of the production network at the newly-incorporated Opel/Vauxhall, with British labour body, Unite, looking to PSA to commit beyond existing contracts.
Unite has voiced its wish Vauxhall will continue model production beyond the current dates of 2021 for the Astra at Ellesmere Port and the joint venture with the Renault-Nissan Alliance, vans at Luton until 2025, but the issue has been complicated by whether the UK will opt for a so-called 'hard' or 'soft' Brexit option.
British Prime Minister, Theresa May appears to be looking for the best of all possible worlds with her wish for "tariff-free and frictionless trade," linked to unspecified single market "arrangements," but it seems unlikely the European Union will allow the UK to enjoy such a deal without agreeing to the four pillars underpinning membership of the Brussels club; namely freedom of movement of people, goods, services and capital.
PSA chairman, Carlos Tavares attempted to square the circle of both hard and soft Brexits in Paris yesterday, by insisting the manufacturer could benefit from either scenario. Should London opt for a hard departure, the PSA chief maintained it was a very good opportunity to "source the UK from inside the UK."
He added: "We can source parts from the UK so that cost will be more in pounds as [like] the revenue structure. If it is a hard Brexit the supplier base needs to be developed and this is something the UK government completely understands.
"Our advantage will be to have UK plants with a pound cost structure to supply a market where the market is in pounds."
Frenetic negotiations are now taking place behind closed doors from myriad industries anxious to secure a competitive environment as the UK looks to invoke Article 50 and depart the EU, with Nissan already appearing to provide some sort of, confidential, template following negotiations with the British government.
Sourcing components closer to home has long been a wish of the SMMT and a hard Brexit may provide a significant trigger to make this wish more of a reality, particularly if Sterling continues its current weakness, but the UK body confined itself to 'hoping' the PSA takeover of Opel/Vauxhall would be positive.
"We are hopeful this deal will provide a positive future for the plants at Luton and Ellesmere Port and the wider supply chain given their inherent advantages," said SMMT chief executive, Mike Hawes in comments sent to just-auto.
"We have been encouraged by the active role government has played reassuring investors of its determination to safeguard our competitiveness despite the uncertainty of Brexit."
With the addition of Opel/Vauxhall, which generated revenue of EUR17.7bn (US$18.7bn) in 2016, PSA will become the second-largest automotive company in Europe, with a 17% market share.
The SMMT has previously called for "unrestricted access to the Single Market of Europe," not just for import and export of vehicles but also for the trade of components.