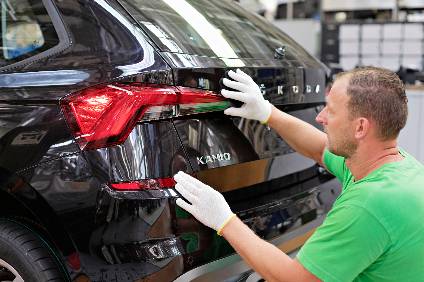 Skoda says that series production of the its new city SUV – Kamiq – has begun at the main plant in Mladá Boleslav.
Alongside the latest member of the Skoda model range, the Octavia, Fabia, Scala and Karoq are also produced there.
The compact city SUV completes Skoda's SUV portfolio at the lower end. Following in the footsteps of the Kodiaq and Karoq, the Kamiq is the third Skoda SUV for the European market and combines the advantages of an SUV – such as higher ground clearance and an elevated seat position – with the agility of a compact car.
Dr Michael Oeljeklaus, Skoda Auto board member for production and logistics, said: "For us, the start of production for a new Skoda model is always a special time. Over the past few months, we have made all of the provisions in production and logistics to successfully launch the Kamiq in the city SUV segment. We are convinced that – in typical Skoda style – the Kamiq too will impress our customers with its excellent quality and many practical features."
Skoda has invested approximately EUR100m (US$112m) in the manufacturing of the Kamiq in Mladá Boleslav. The production line for the MQB27 platform has been adapted; new press tools have also been produced. In the paint shop, body shop and final assembly, not only were fundamental changes made, but details were also modified to facilitate the assembly of the new split headlights with LED technology, for example. 400 new Kamiqs leave the Mladá Boleslav plant each day.
The new Skoda Kamiq is based on Volkswagen Group's MQB platform and includes VW Group driver assistance and infotainment systems.
According to just-auto's PLDB/QUBE new models database, a prototype of an extended version for India will be revealed at the New Delhi auto expo in January 2020. Skoda insiders have spoken of a new architecture which will be the basis of this locally manufactured model. The name is said to be MQB A0 IN with the suffix being an abbreviation for India.
As for potential production in China, should this happen, the name will have to change as there is already a Skoda Kamiq there. This 4,390mm long crossover, which looks a lot like the 4,382mm long Karoq, is manufactured by the SAIC Volkswagen joint venture. It became available in June 2018. 'Kosmiq' had been rumoured for Europe's Kamiq, so that could be what the vehicle ends up being called in the PRC if it does become available there.