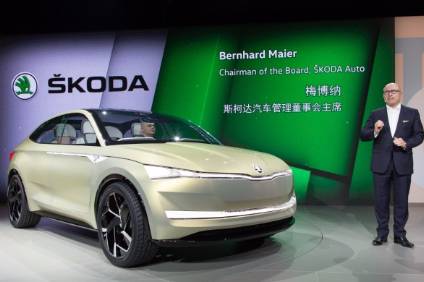 Skoda has unveiled its first electric concept car in Shanghai. The VW Group owned brand said it will be introducing five purely electrically-powered cars by 2025, in addition to plug-in hybrid models.
The Vision E has a maximum output of 225 kilowatts and can run at a top speed of 180 km/h, with a range of 500 km.
The concept also features 'Level 3' autonomous driving, which means it can drive itself on highways and park itself without human intervention. The concept vehicle also includes an operating system with advanced gesture control, including eye tracking for the driver and additional touch screens for the front and rear passengers.
The Vision E is based on the Volkswagen Group's electrification platform.
Skoda plans to release its first purely electric car onto the market in 2020.
In addition to the concept car, Skoda announced it will release an estate car, Octavia Combi, into the Chinese market later this year.
Skoda sold 317,000 cars in China last year and plans to double sales by 2020.
"Since we entered the Chinese market ten years ago, Skoda has developed very positively on the Chinese automotive market. Today, more than a quarter of our total annual sales are delivered to customers in China," says Skoda CEO Bernhard Maier. "We will continue to accelerate along this growth path over the coming years by broadening our model range. The primary focus of our model campaign on the Chinese market is the expansion of our SUV range: With the Skoda Kodiaq, our currently largest SUV is being launched on the market and additional attractive models will follow shortly after. Our goal is to double our deliveries in China to over 600,000 units by 2020."