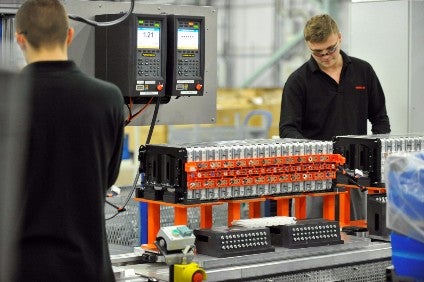 SKC Company, a subsidiary of South Korean conglomerate SK Group, announced plans to expand its manufacturing capacity for battery materials, targeting fast growing demand from the global electric vehicle (EV) industry.
The chemicals producer said it aimed to generate over 80% of its earnings from supplying materials for EV batteries by 2025 and was looking to increase its market capitalisation from the current KRW6.5trn (US$5.5bn) to KRW30trn by 2025.
Subsidiary SK Nexilis Company currently produces copper foil used in the manufacture of lithium ion battery anodes which it said accounted for 22% of the global market in the first quarter.
The company plans to expand its global copper foil manufacturing capacity to over 250,000 tons per year by 2025 which would consolidate its lead position in the global market.
SKC also said it would establish deals with other companies in this sector to bring to market "promising" materials that can improve the performance of li-ion batteries, including silicon anodes and high-nickel cathodes.
SKC also said it planned to develop advanced materials for semiconductors, targeting sales of KRW2trn from this segment.