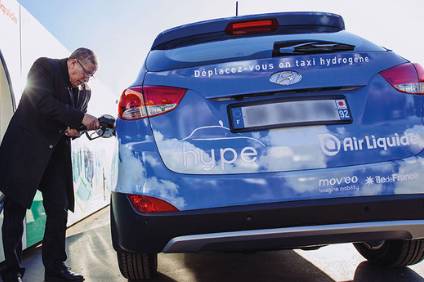 Shanghai wants to lead the development of China's hydrogen economy by investing in refuelling infrastructure and in the production of fuel cell electric vehicles, according to local reports.
At a summit held in the city by the Shanghai Partnership of Fuel Cell Vehicles, Shanghai-Yangtze River Delta Hydrogen Technology Center and Jiading Hydrogen Energy Hub, local government officials and industry insiders said significant investments would be made over the next three years to drive forward the hydrogen economy in the region.
Liu Ping, deputy director of the Shanghai Municipal Commission for Economy and Information, said 10,000 hydrogen FCEVs would be produced in the city by 2023 and 30 more hydrogen refuelling stations would be added, to be followed by 70 more after 2023.
Liu said at the summit: "Hydrogen power is a strategic direction for China's energy transition and developing hydrogen powered vehicles is an important path to achieve that mission."
He added: "Shanghai will push forward collaborative fuel cell projects to put 5,000 hydrogen cars into use in Suzhou, Nantong, Jiaxing, Zibo, Erdos and the Ningdong Energy Chemical Industry Base by 2025."
Yu Zhuoping, professor of automotive engineering at Tongji University and director of China Hydrogen Alliance's experts committee, said: "We have seen remarkable progress in fuel cell technology over the past two decades and China is close to the most advanced countries in this technology."
Yu added: "China's key advantage going forward is the size of its internal market. Now it is important to increase the number of hydrogen vehicles to achieve economies of scale."